The NFL draft is right around the corner where some of college football's best from the past couple years will enter and take that next step forward in their careers. That means that it's time for this next group of great college football players to step up. Whoever wins the Heisman is basically the college football MVP, and the winner usually represents the cream of the crop college football players. Here are 5 early on Heisman candidates for the 2018 season to keep an eye on. Also if your NFL team is looking to be in the market for a quarterback or running back sometime soon, look out for these players as well
Khalil Tate, Quarterback from Arizona
Being in Colorado I naturally follow the PAC 12 because so many of their games are televised here. One game that I happened to catch was the game between the University of Colorado and Arizona. In a spectacular performance Khalil Tate exploded for 327 rushing yards, 154 passing yards (he only had one incompletion), 4 rushing touchdowns, and a passing touchdown. In this game he would lift Arizona over a tough Colorado team that finished runner up in the conference the season before in a 45-42 victory.
After this game he would simply go on a tear rushing for at least 130 yards and a touchdown from that game on October 7th all the way to November 11th. I'll admit his passing game left a lot to be desired considering he passed for over 200 yards only twice this past season. In the Foster Farms Bowl game he would tear apart Purdue for 302 yards, and 5 passing touchdowns on a solid 65.4% pass completion rate He also added in 58 yards on the ground, but would end up losing that game by 3 points.
His highlights show that he is an explosive athlete that only needs the slightest crease to explode for a long touchdown run. My biggest concern is his passing game. It was such a big concern that I almost didn't consider putting him on this list. His mechanics don't look terrible, and his arm looks strong but he did not seem to be as big of an impact in the Arizona passing attack. His pass completion percentage is pretty decent for a mobile quarterback at a season average of 62%, but he only threw 5 more touchdowns than picks and for only 1591 yards. I acknowledge it may be the system holding him back, but it's just one of those things that he will need to overcome if he is going to win the Heisman trophy. If Khalil Tate can have a repeat rushing performance, improve his passing game, and win a couple more significant games for Arizona than I don't see why he can't win it.
Jalen Hurts/ Tua Tagovailoa, Quarterback from Alabama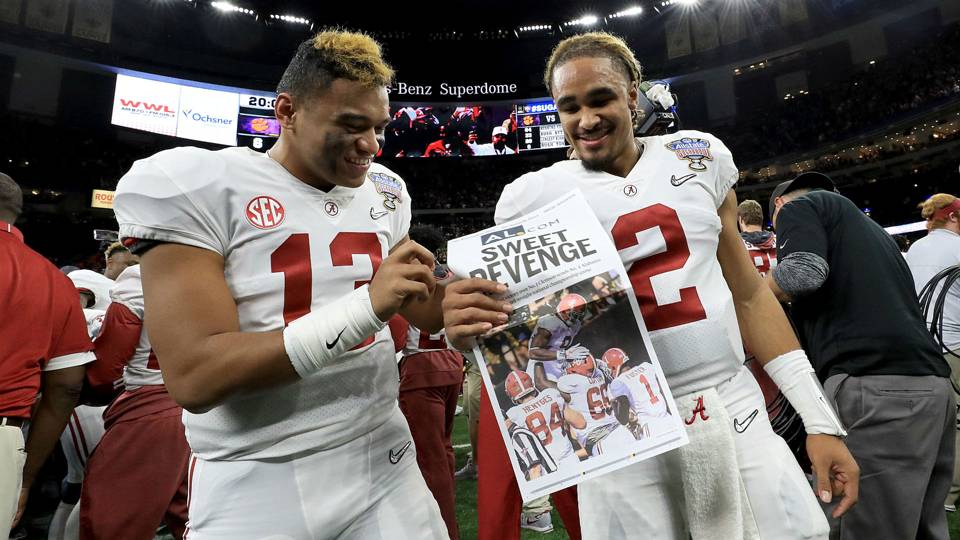 Before I begin, both of these quarterbacks are super talented young players for the best college football team in the nation so it's just unreasonable to leave them off the list. As of now, I have no idea who the starter will be for the 2018 season. All I know is that both of these young men are handling this situation in such a mature/professional manner and it's honestly surprising. I do believe that whoever starts will be an instant Heisman contender.
Tua Tagovailoa is a young dual threat quarterback who showed his potential in the national championship game. His talent has been undeniable as a former 5 star recruit, and easily one of the best quarterbacks to come from high school last year. From the little snapshot we have of him, he looks like an electrifying quarterback who can light up many more defenses. Considering Georgia's defense was one of the best in the nation, it's hard not to think about how much damage he can do to other defenses. His biggest concern is his experience though. There is a reason Nick Saban waited so long to give him a chance to play over Jalen Hurts. Also, I can see Alabama maybe leaning towards Jalen Hurts being the starter simply because after this season he will be draft eligible.
Jalen Hurts has a little bit more pressure on him this season. The past two seasons he has had solid seasons passing for 40 total touchdowns and only 10 picks. In addition to 1808 rushing yards and 21 rushing touchdowns. Those are solid stats but this last season he seemingly plateaued in terms of production and development. His stats were not as good his sophomore year with the only upside being that he only threw 1 interception this last season compared to the 9 before that. Hurts has the tools to be great with good speed, and a strong arm but he needs to take that next step forward in development. If he doesn't secure this year's starting job then look for his draft stock to start falling drastically and for a potential transfer. Starting isn't the only obstacle though. He needs to show that he is the better quarterback, and secure that spot for the whole season. In order to do that, a heisman type of season may be the solution to that problem. Tua Tagovailoa is on his heels, and as of now the only advantage he has, is that he's been in this offense for one more year than Tua. This quarterback battle may end with one of them winning the heisman, and I'm personally excited to see either do just that.
Jonathan Taylor, Running back from Wisconsin
The 5-11 214 pound true freshman running back made a splash this past season. He virtually carried the Wisconsin offense one electrifying game after another. So far in his young college career he has not rushed and received for 70 total yards or less. In fact out of the 14 games he played this last season, he has only missed the 100 rushing yard mark 4 times.
For the record I think he is only scratching the surface. Barring injury, he can easily be the best running back in college football next year.  His talent is through the roof, and Wisconsin is lucky to have snagged him. Wisconsin went 13-1 this last season just barely missing the playoffs. In general a lot is going for Jonathan Taylor, but it's up to Wisconsin whether or not he wins the Heisman. Wisconsin has been pretty good the last couple years, but they haven't gotten over that hump making the playoffs yet. If they make the playoffs and Jonathan Taylor at the very least has a season similar to last than it'll be very hard to deny him the heisman trophy.
Jarrett Stidham, Quarterback from Auburn
My gut tells me that Jarrett Stidham will win the heisman this year, but I can't bring myself to making that prediction. Stidham is the only quarterback who beat both Alabama and Georgia this past season. Both teams who fielded a plethora of future defensive NFL talent (many of whom are going in the early rounds). That should say enough, but there were a lot of other factors like his defense and running backs.
His stats weren't very impressive as he threw for 3,158 yards, 18 touchdowns, and only 6 interceptions. For the most part he was a game manager type of quarterback, but he has shown flashes of greatness. The biggest thing for Stidham is to take that next leap forward as a quarterback with his running backs entering the draft.
The downside is that he has to play in the tough SEC. Georgia and Alabama have reloaded this offseason both battling each other for the top recruiting class. Those two teams will be absolute titans of the SEC. Stidham's Heisman chances will be based on whether Auburn survives the gauntlet that is the SEC, which includes beating both Alabama and Georgia again. If Stidham takes that next step forward, than I believe he can do just that.
Bryce Love, Running Back from Stanford
Bryce Love was supposed to go in this year's NFL draft, but I think he made the right decision. Saquon Barkley was a lock to be the first running back selected. So now his chances of being the first running back off the board have skyrocketed. Barring injury I believe that he can still bring his game onto yet another level.
Love finished the season with 2,151 yards from scrimmage and 19 touchdowns. His passing stats are nearly non-existent so much of that damage was done on the ground. He isn't exactly like his predecessor Christian McCaffrey but he has similar agility and speed. Although he weighs less than McCaffrey, Love in my opinion is a bit more of a physical runner especially between the tackles. Seeing highlights from games like his against UCLA gives me that impression.
There are two things that can be done if he is to win the Heisman. One of them is having an absolutely insane season, and topping his stats from last year if not getting pretty close to doing that. Like I said, I feel like Bryce Love can absolutely take his game to another level and have that type of season. With his NFL draft stock on the line, having yet another great season may solidify his draft stock as a number one overall pick type of player. This possibility is very likely barring injury of course.
The other thing that can lead to him winning the Heisman is if Stanford becomes a contender to make the playoffs off of Love's success. Last season they went 9-5 dropping from the records of 10-3 and 12-2 that they achieved when Christian McCaffrey was the starter. I'd say even getting to 12-2 will be enough to give Love the Heisman trophy. No matter what happens though, Bryce Love along with the rest of these Heisman contenders should be electrifying to watch.