With the new NFL season fast approaching here are 100 players, and about 10 honorable mentions from this past NFL season. Big names tend to take over most top 100 player lists, which is usually acceptable. Except there are always a handful of players who make the NFL top 100 list but didn't really have a great season because of injury or just bad play. My list is made up of NFL players who I believed impacted their teams greatly on and off the field, were stat leaders, and simply balled out this past season. This does mean that players like JJ Watt and Odell Beckham Jr. won't make this list because they missed most of the season. A lot of this list is based off of my own judgment, and not just the stats itself. I'll go down the list 20 players at a time mostly explaining why I had some players above others and so forth. Look out for a consensus top 100 NFL players list of 2017 brought to you from me, and fellow writer Kodey Stauffer coming soon.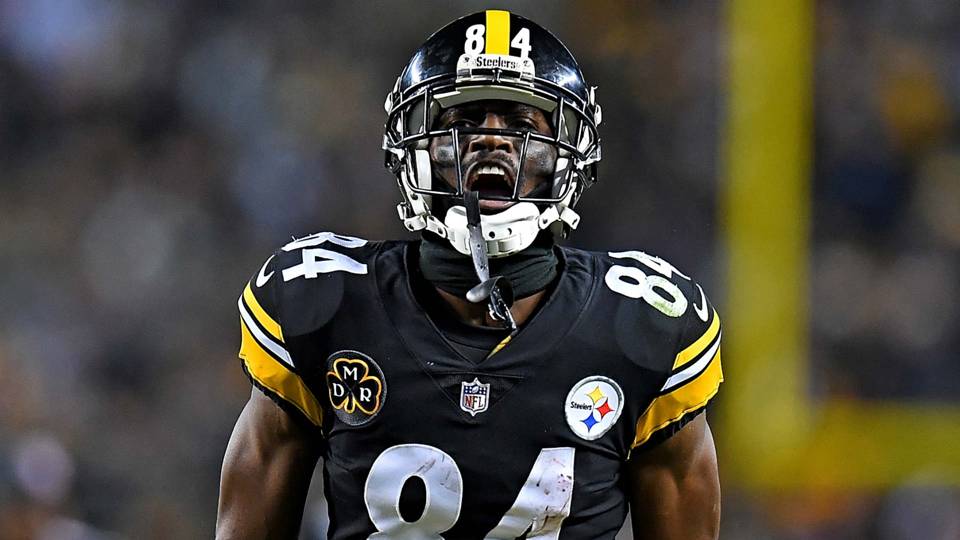 1. Carson Wentz
2. Antonio Brown
3. Todd Gurley
4. Tom Brady
5. Russell Wilson
6. Le'Veon Bell
7. Aaron Donald
8. DeAndre Hopkins
9. Khalil Mack
10. Von Miller
11. Julio Jones
12. Rob Gronkowski
13. Jalen Ramsey
14. Chandler Jones
15. Marshon Lattimore
16. Keenan Allen
17. Joey Bosa
18. Demarcus Lawrence
19. Kareem Hunt
20. Zach Ertz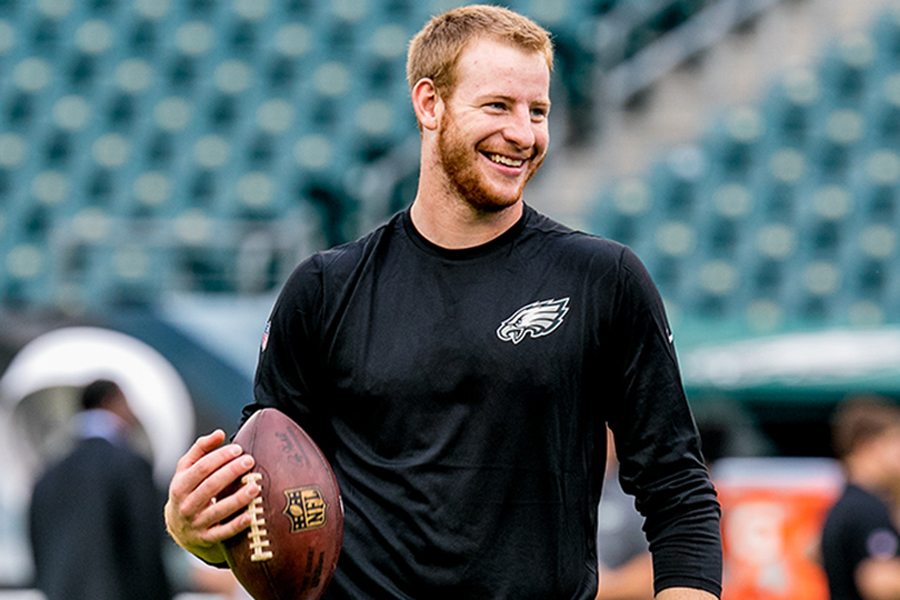 Yes, I put Carson Wentz over everybody. The fact of the matter is that Tom Brady was great last season, but Wentz was better. It's obvious that the better player here talent-wise is Tom Brady, but the 2017 season belonged to Carson Wentz up until he tore his ACL late in the year. His impact on his team was still felt though, even when he wasn't playing. Wentz played so well that it gave the Eagles very helpful home-field advantage throughout the playoffs, which gave them great momentum going into the Super Bowl. If Wentz was healthy all season, I believe he could've won MVP easily and it would not have been close.
Tom Brady drops on this list because there were a number of other players who should've won MVP this year over him, but Brady lucked out because they all got hurt. Players like Antonio Brown and Todd Gurley were two guys I strongly considered for the number one spot on this list. AB had an MVP caliber season before getting hurt, and Gurley once again showed how vital he was to a revitalized Ram's squad. I strongly believe that both those guys are far more impactful than Tom Brady is to the Patriots. Don't get me wrong, Brady is the GOAT but he also had the best coach in the league and one of the best weapons in Gronk who cracked the top 20 of this list. Also, let's not forget that he got outdueled by a backup quarterback in the Super Bowl. He may have had better stats compared to Nick Foles in the game itself, but you don't have to shoot more to win a duel.
I put Deandre Hopkins over Julio Jones, for numerous reasons. Julio was somebody I felt like climbed the NFL's top 100 list because of his name. Yes, he did have 1,444 receiving yards, but 3 receiving touchdowns is pitiful for a wide receiver who's supposed to be elite. Deandre Hopkins had 1,378 yards, and 13 touchdowns with only 6 more receptions caught on the season than Julio. The thing is, Hopkins did this with a rookie quarterback who started 6 games and Tom Savage. Julio Jones had Matt Ryan the whole season. Let's not forget that the Falcons have plenty more offensive weapons on this team for opposing defenses to worry about other than Julio Jones. The Texans barely had a rushing game, and their receivers behind Deandre Hopkins are not as good as the receivers behind Julio Jones. Hopkins has been overrated for years now, and I simply believe he's a great player in a tough situation.
To round out the top 20 I have two rookies who barely made it in the top 20. That would be Marshon Lattimore and Kareem Hunt. I put Hunt this high because as a rookie he led the league in rushing yards, and was an absolute stud for the Chiefs. Hunt gives them a consistent running game, and a workhorse back to use for years to come. The Chiefs have great depth at running back, but if they lost Hunt than their running game would be heavily affected. Hunt should help smooth over the transition at quarterback from Alex Smith to Patrick Mahomes because of how talented he is. Marshon Lattimore, in my opinion, showed last season that he is already one of the best corners in the league. New Orleans has had a sorry defense in recent years, but Lattimore changed a lot of that by stepping it up his rookie year and giving them some life on the defensive side of the ball. The future is very bright for these two rookies.