The best thing about sports is that it creates unforgettable memories that massive amounts of people can bond over. So many of my own memories come from sports, or are dated by a significant sports event. This is my top 10 most memorable sports moments that I have lived through. Although I just said it's MY top 10, I'm sure people will still find a way to pick at my list. So for background information, I'm currently a 19 year old from Dallas and the sports I grew up watching were football, basketball, some Olympic sports, some MMA, and boxing. Anyways, before I get into this I put together some honorable mentions that were very close to making this list but I felt like didn't quite make it for me.
Honorable Mentions
Linsanity
Let's start in 2012. Known by most as the year everyone thought the world was going to end, but in the sports world also as the year Linsanity happened. The asian american point guard, Jeremy Lin, would go on an unforgettable tear to give the New York Knicks some life. As an asian american in the 7th grade, I couldn't help but look up to Jeremy Lin as an athlete and person. A couple years later I would watch the documentary Linsanity (it's an awesome documentary by the way) and I relived all the memories from that time. My favorite memory from his run had to be when he hit that game winner in Toronto. I didn't follow too many sports closely growing up around this age, but watching Jeremy Lin go off definitely attracted me to watching much more basketball for years to come.
Mayweather vs Pacquiao
Fast forward three years to May 2nd 2015. Throughout my whole childhood I followed Manny Pacquiao and he was always one of my favorite athletes. I watched him beat Juan Marquez, Oscar De La Hoya, Timothy Bradley, and Miguel Cotto but the Floyd Mayweather fight was the fight I waited on forever. Of course Manny Pacquiao would lose by decision, (and yes I was devastated) but it was still my most memorable fight of his. Of course I'm bias, but in my opinion Manny would always be the better fighter than Floyd. All legal and character issues aside (which Floyd has a significant amount of that is overlooked) Manny Pacquiao never waited or was afraid of fighting a real challenger as soon as possible. Part of the reason why he did lose was because he had a lot more wear and tear then Floyd. Not because he wasn't as good a fighter, but he simply fought more. I'll always respect that, and Floyd could fade into irrelevance for all I care.
Johnny Manziel's Heisman Year
Backtracking to 2012, is where I witnessed in my opinion the most electrifying college football player I've ever seen. Although I grew up in Dallas, which is closer to Texas A&M, I hated the Aggies and I was definitely more of a Longhorns fan. The University of Texas was my dream school. Anyways then Johnny Football showed up. There are few times in my life where I simply just wanted to watch a college football player play just because I knew he will put on a show regardless of who he plays. Manziel seemed to have all the swag, and played very flashy which I absolutely loved as an 8th grader. To this day, I firmly believe that Mike Pettine ruined his career in Cleveland and that Johnny Manziel simply had the meltdown he did because he never had a coach in Cleveland who truly believed in him. Watch out for Johnny Manziel the next couple years, he will surprise a lot of people.
Steelers vs Cardinals Super Bowl
I grew up in Dallas, but I grew up with a lot of Steelers gear. No my parents weren't Pittsburgh natives, or die hard Steelers fans. They simply moved from Pittsburgh right before I was born in Dallas. In fact, it were Steelers fans in Pittsburgh who first introduced my parents to the importance of football in Pennsylvania and America. My parents', and older brother's first football game was a Steelers game. As a result they had a bit of Steelers gear lying around. So I grew up wearing my favorite Steelers hoodie, and my older brother's terrible towel was always somewhere in our house. As a child, I only really knew of the Pittsburgh Steelers and Dallas Cowboys. So I grew up following both teams, with Pittsburgh being my AFC team and Dallas being my NFC team. I know that sounds like such a bandwagon thing, but both teams had an impact on how I saw football growing up. Anyways the Pittsburgh win against Kurt Warner and the Cardinals is simply one of my favorite memories ever. That Super Bowl was the first one I watched in full ever before, and I will always remember James Harrison's pick six, and Santonio Holmes' incredible catch.
10: Freshmen Duel in the National Football Championship Game
This game was very important to me for so many reasons that I wrote a very personal article about it. Specifically about why Tua Tagovailoa will change the game. It's one of my personal favorite articles, and I highly recommend checking it out on SONTlive.com. Anyways back to this game. First off it was the first real battle between Nick Saban's Alabama and Kirby Smart's Georgia. Kirby Smart will win a couple national championships, and he will go down as one of the better coaches of all time. Nick Saban is obviously a legend already, and this win made him the coach with the most college national championships of all time. The fact that these two head coaches battled it out will be history enough. Based on that alone should be enough of a reason to put this in my top 10 memorable sports moments.
All of that background information is good, but the way the game itself went down will be historical. First off true freshmen Georgia quarterback, Jake Fromm, played very well for someone his age. His performance in that game simply can't be overlooked although they lost. (Insert stats here) I believe Jake Fromm will develop into a starting caliber NFL quarterback, and that this national championship game was simply the first step in his long journey ahead of him. The more he grows his legacy, the more important this game will look later down the line. Then we got the newest Alabama legend, Tua Tagovailoa. Keep in mind that literally a year ago he was playing high school, and he took snaps sparingly throughout the season. Jalen Hurts was the entrenched starter after showing a lot of promise as a true freshmen quarterback the previous year, and he wouldn't have been an easy opponent to beat out. Nothing against Jalen Hurts, but he just wasn't going in this national championship game, so Nick Saban finally pulled the trigger at the latest possible moment. In one half, Tua Tagovailoa would lead an incredible comeback and have one big drive after another. (insert stats here) It would be the last play though that would forever go down in college football history. After taking a pretty bad sack, he would bounce back and throw a walk off touchdown to win the game.
That moment is probably one of the most incredible feats I've ever witnessed. For a 19 year old to mentally get himself right after a pretty bad play, and throw the game winning touchdown on the highest stage of the college football level is simply unreal. I'm definitely looking forward to the rest of Tua Tagovailoa's career because just like with Jake Fromm, I think this game was only the beginning of his journey. This memory is only 10th because of the recent memory bias, but I do expect it to rise with time.
Fiji wins its first ever Olympic Medal
This is another memory that has the potential of rising later on. First off it's the Olympics so anything big that happens in it will go down in history, and the Olympics have a deep history. Second, it was the return of rugby to Olympics in decades. I've really only recently got into rugby a couple years ago. I used to play pick up games of rugby as conditioning during the offseason. As a side note, it's a perfect conditioning activity for football players. Anyways moving on, I did not know as much about rugby when this event happened then I do now.
I knew some of the basic rules, and history of the game but nothing deeper than that surface information. It wasn't until the Rio Olympics where I got into watching a whole ton of rugby when it was going on. I remember back when my family had on demand, and could watch any Olympic event my older brother would put on rugby. At first I thought it was kind of boring, but it didn't take long for me to get absolutely addicted to it. The first match I watched was a women's match between Japan and Great Britain. Immediately the speed, and power of the game attracted me and I must have watched every single rugby match in the Olympics after that because I was so addicted.
I remember seeing the United States easily get eliminated in both rounds, and I originally had New Zealand winning it all. Then Fiji came in and won that match barely before going on an absolute tear destroying Great Britain 43- 7 to win not only their first ever gold medal, but their first ever Olympic medal. At the time I felt like Great Britain was definitely a better team because they had a tougher road to their medal match. After beating South Africa barely who took out Australia handily, I felt like they had the edge over Fiji. When Fiji came out firing, I formed newfound respect for them and was happy to witness history. I honestly can't wait for the next Olympics.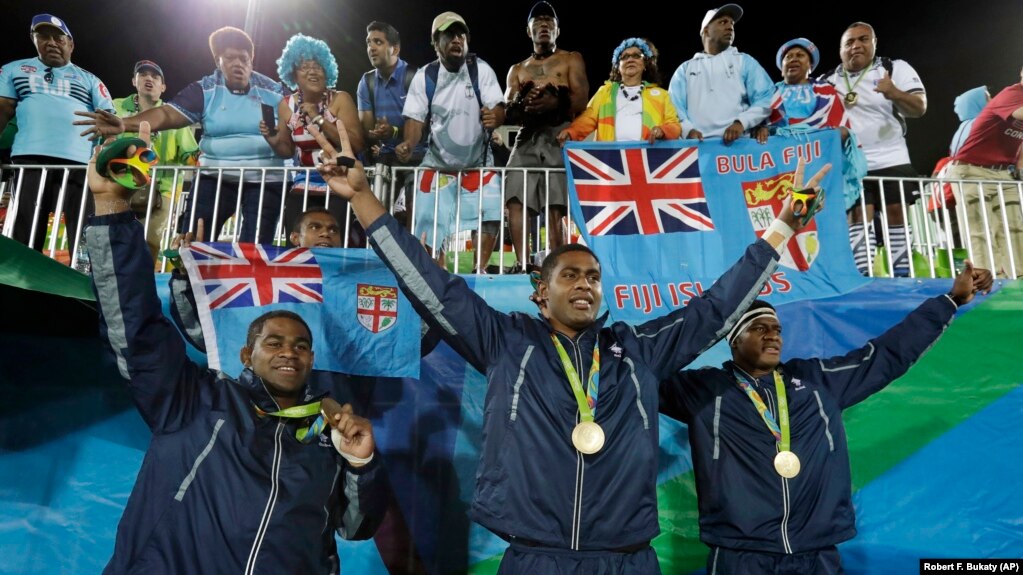 Game 7 of the 2016 World Series
I've never really been a big baseball fan growing up. Unlike a lot of young adults my age, I did not play baseball or watch it at all growing up. My family is a strong basketball family, and we watched football because of our Dallas/Pittsburgh ties but baseball was never a huge factor. At least to me it wasn't. Of course I remember my Texas Rangers experiencing a lot of success and having great players come through, but nothing significant in my opinion.
Then the 2016 World Series started. First off I thought it was interesting that these two franchises made it. Cleveland has always had a rough time with their professional sports teams. From moments like "the shot" to "the fumble" has defined Cleveland sports. Chicago on the other hand was currently going through a 71 year curse. When it looked like Cleveland was going to seal the deal after going up 3-1 in the series, I thought it was going to be a great year for Cleveland sports. Then the Chicago Cubs happened. After storming back to set the stage for a game 7 it went down.
Honestly I don't remember exactly what I was doing, but I remember I was busy for the 1st 6 or 7 innings. Then I tuned in to see what was going on. Cleveland was down by 3 going into the 8th inning. After getting a quick score to bring it to 4-6 I witnessed as Rajai Davis hits a homerun to tie the game 6-6. It was an insane moment to me, and I really did think the Indians were about to storm back and win this thing. I vividly remember seeing clips of LeBron going crazy after seeing the home run. For a second it seemed like the entire city of Cleveland was simply just hungry for another well earned championship to celebrate. Then to make the long story short, the Cubs simply overcame that and won their first World Series in 71 years. That in itself is history worthy, and the fact that the game itself was fantastic simply add to the memory.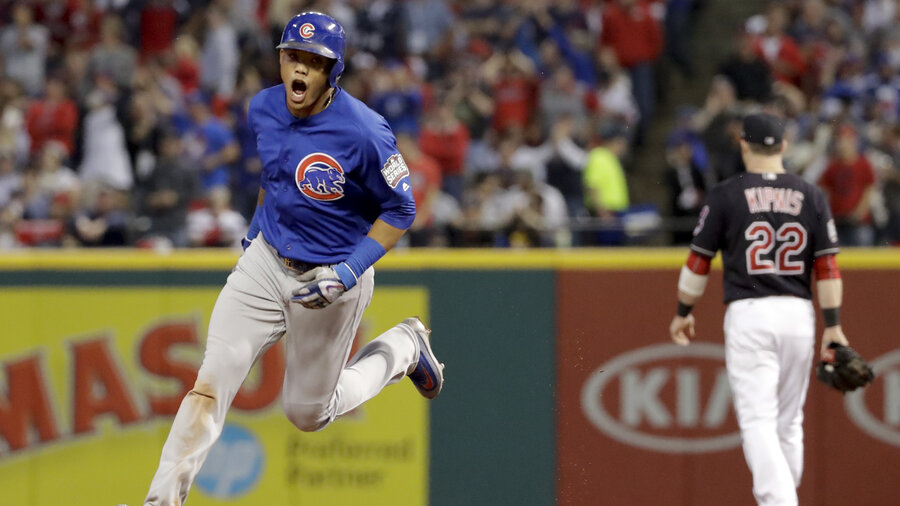 Russell Westbrook breaks the record for the most triple doubles in a season
At the moment one of the biggest regrets in terms of sports has been not buying tickets to go watch this game up in Denver. I vividly remember talking with my brothers and family about getting tickets to see Westbrook play up in Denver days before. At the moment I lived in a city called Colorado Springs, about two hours from Denver, so not too far. We did not end up buying tickets, but my brothers and late father would watch the game together. Besides the fact that it was history, it was also one of the last significant games I would watch with my dad who would pass away last fall.
Anyways, we watched the whole second half of the game. Westbrook narrowly missed getting that triple-double to beat the record in the previous games that week. So we all felt like that it could happen that sunday afternoon. Then we witnessed it. We saw as he got that last assist of many assists made that season to claim that record. I remember watching as simply the entire Denver stadium started cheering despite Westbrook leading a comeback on the Nuggets. Looking back Westbrook simply had an insane season, and it felt like he was pissed almost every game he played. He was simply a monster, and simply couldn't be denied the MVP.
As if getting his 42nd triple double wasn't enough Westbrook made that game even more memorable. In a crazy sequence of events Russell Westbrook would put his team in a position come get the win after seemingly battling all day long by himself against the Denver Nuggets. I'm not a Denver fan at all, and I was tired of all these popup Nuggets fans clowning on my Mavericks because the Nuggets were good now. So I wanted Westbrook to beat Denver which would push them out of the playoffs. After a handoff from Steven Adams, Russell Westbrook would make my wish come true and eliminate the Denver Nuggets from the playoffs. It's one of my favorite sports memories for that reason. Also it was one of the many great last memories I got to share with my dad and brothers. This part of the article is low key dedicated to him. Rest in peace dad.
Conor McGregor beats Jose Aldo for the first time
I'm going to make this one short and sweet. I've followed boxing for what seems like forever, but around middle school or high school I developed a liking for the UFC. Their were many different MMA fighters I followed like Anderson Silva, and George St. Pierre but Conor McGregor was the first one I witnessed the rise of.
EA's UFC games were some of my favorite video games growing up, and Conor McGregor was simply one of my favorite fighters despite being rated relatively low when he was given a spot in the video game. He was a talented stand up fighter, and personally I loved that because if I did MMA then I would be exactly that as well. Anyways he started getting big, and won a couple big time fights on the road to facing Jose Aldo. Fight after fight he seemed to only be getting better, and then the tattoos came. In addition, he started getting bolder and talking simply the best trash talk out out of anybody else in the UFC. I simply loved every moment of it because 95% of the time he backed up his talk with yet another dominating win.
Then I believe he got to a point where he was one win away from having himself a show down with Jose Aldo the current featherweight champ at the time. I don't know what it was, but to this day I did not like Jose Aldo at all. So when McGregor won that match and got out of the cage and started screaming in his face it made me very happy. Then the fight was set up. After that soon before the fight Aldo revealed an injury so McGregor accepted a fight against somebody else, and won, before having another date against Aldo. When the big day finally came he knocked him out in 13 seconds, and I simply could not have been happier for Conor McGregor. As a long time fan, it felt great to simply see him back up all the trash talk he put out there.
Dallas wins the 2011 NBA Championship
I really feel like this memory should be slightly higher on this list, but in terms of significant historical importance it's not quite there. As a Dallas fan this was big. Of course nobody else outside of Dallas cares, but the rematch itself with the Miami Heat was a pretty big deal. In those original finals there was a lot of reason to believe that it was rigged based on multiple sources now. Anyways it still happened, and in 2011 it came down to another showdown between Miami and Dallas.
Of course nobody outside of Dallas viewed it this way,  but as an incoming 7th grader I saw the Heat and Mavericks being an intense rivalry. Everyone hated LeBron and wanted us to win, but nobody really wanted that win as much as Dallas fans. Let's start with their playoff run. By the way I wrote a whole article about this 2011 team so be sure to check it out. Anyways we beat a relatively tough Trail Blazers team only to move on to battle with the defending champions Lakers in the second round. In one of the most shocking series I've witnessed we swept the Kobe Bryant led Lakers. It was at this time that I simply felt like our time was now.
I vividly remember our little playoff slogan was "The Time is Now". To this day, I have not lived in a city besides Dallas that bought into a slogan and their team as much as we did in the 2011 Mavs. All over the city were "The Time is Now" banners, signs, shirts, and more. Beating the Lakers only confirmed this. Despite us having to face the young but dangerous Oklahoma City Thunder, we were confident in our team. After a hard fought series with that OKC team was only when we got to face the Heat. Everyone in Dallas felt like we've gotten too far to lose, and we believed that we had a good chance against the Heat. In the end it was our time and we made the most of it.
4. Kobe's Last Game
2016 was an awesome year in sports, and Kobe's last game was an unforgettable part of it. There was the whole farewell tour that Kobe had that season leading up to that game against the Utah Jazz. Leading up to this last game stories were out about all these celebrities going to Kobe's game. Also nobody can forget the insane ticket prices for this game despite the Lakers being well out of the playoffs.
At this point the Utah Jazz was on the verge of making the playoffs. If they won this game then they would've punched their ticket into the playoffs. Earlier that day their chances of making the playoffs would get eliminated, so it set the stage for this game simply being Kobe's last game. From the start, it was obvious the Lakers were just trying to keep Kobe in as long as possible and give him the ball. By the end of the game he was exhausted, but he dropped 60 points. I don't think we will ever see something like this happen again, and that feat itself was extraordinary. Oh, and he single handedly brought the Lakers from being down by 10+ points in the last minutes of the game to win it. No problem for the Black Mamba.
3. Michael Phelps in Beijing and London
I've literally lived through Michael Phelps' Olympic career. His first one was actually in Australia where he competed as the youngest Olympians in years at the age of 15. I was born in 1998. His rise would begin in 2004, and I would be a kindergartener at the time, but I still remember the buzz around Phelps. His legacy would be an insane one, and I actually remember doing a project on him in elementary school. We had to write/research about our favorite Americans, and I made sure to pick Michael Phelps right away.
At Athens he would get 8 medals off the bat. Then I remember watching him at Beijing when I had a much bigger appreciation for Olympic accomplishments and sports in general. I watched as he won 8 more medals, but this time all gold. What's crazy is that he broke 7 world records and 1 Olympic record in the process of winning those medals. If I didn't think he wasn't a legend (which I already did as a 9 year old) this solidified it. Commercials and products were going around with either Michael Phelps' name attached to it or his face.
Then it was London where he sealed his fate. There he would win 6 more Olympic medals. Collecting 4 gold medals out of the 6 in the process of doing that. In doing so he would pass Larisa Latynina 18 medal count, and become the most decorated Olympian of all time. As of now after the Rio Olympics, he has 28 Olympic medals. I honestly don't think anybody else will ever witness an Olympic run as prolific or successful as Michael Phelps. I'm extremely thankful to be able to witness such greatness. This will always be a top 3 moment in my books.
Vince Young wins the National Championship
This memory is an extremely personal memory for me. I was a first grader at the time, and this was one of my first sports memories ever. My family at the time didn't have cable, so we only had local tv. But since it was the national championship game and Texas was in it they were going to show it.
It wouldn't be for a couple years until I figured out just how difficult of an opponent USC was. Growing up I always heard that Texas produced the best football players, and that it was a football state through and through. So I went in watching the game thinking we were going to win no matter what. This Texas team was stacked don't get me wrong. In fact, one of the offensive linemen, Justin Blalock, was somebody from my hometown who made it to the NFL having a solid career with the Falcons. I would actually end up going to the same middle school Blalock went to years later, and my older brother would play pickup basketball with him at the rec center from time to time.
Anyways I had connections to this game. As in players from my own community were playing for Texas. Then the game started and immediately it got me hooked on football. Long story short, I came away from watching that game wanting to play football despite not knowing much about it. Like I have said before, my family were avid basketball fans and everyone but me played basketball when they were in school. This game was the reason I became the first person in my entire family (on both my parent's side) to play football. It's the reason why I had dreams of playing for Texas, and now have dreams of coaching for them possibly one day. It simply made me fall in love with football. Honestly, if it wasn't for this game I wouldn't have valued sports or working out as a whole as much as I do now.
Vince Young was one of the biggest reason this game was memorable for me. He had an electrifying game, and instantly became one of my favorite players grew up. So it sucked when Jeff Fisher ruined his career. All that aside though, I'll always remember that 4th down scramble touchdown that won Texas the game. From that moment on, I knew for a fact that I needed football in my life.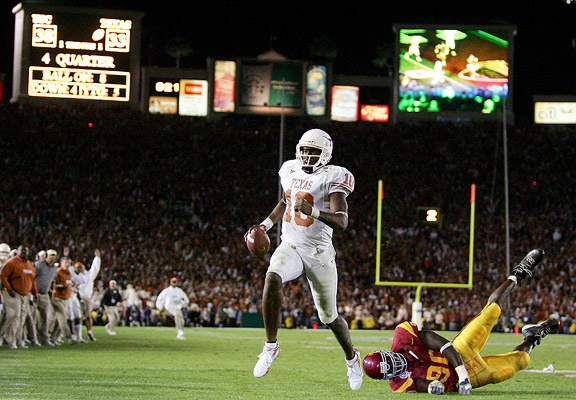 Game 7 of the 2016 NBA Finals
For as long as I live, I will remember the day the record breaking 73 win Golden State Warriors blew a 3-1 NBA finals lead to LeBron and the Cleveland Cavaliers. Before Kevin Durant sold out, and Kyrie Irving jumped ship there was the 2016 NBA finals. In my books, this goes down as one of the greatest NBA finals of all time. If not the greatest of all time.
LeBron James, as always, had to battle and drag this Cleveland team from their 3-1 deficit to win the series. He would drop two 40 point games in game 5 and 6. Besides that there are a multitude of stats that show just how much LeBron was doing all over the floor. Kyrie Irving would also play a big part in all of this too. There were many times throughout this series where the Cavs just couldn't find a break, but Kyrie Irving would be going off. The fact of the matter is that they still found a way to get it done against an extremely difficult Warriors team that did not even lose at home all season. Or for the majority of the season at least.
I've never liked Steph Curry or the Warriors. I just couldn't find it in me to like him or them. So when ESPN and all these other sports outlets starting hyping up him and the Warriors like they were the greatest team ever I never believed it until their 73 win season. They were dominant, and once the Cavs were down 3-1 to the Warriors I thought for sure it would be over. It seemed unreal as I witnessed the Cavs take it game by game, and slowly fight back to win it all. Specifically in the last 3 or so minutes of game 7 I found it unreal.
In that game, Steph Curry was already choking badly but Draymond Green was having a fantastic game that I don't believe he has ever had again. For those three minutes I can feel the tension as neither team scored until inside the minute mark. Also I bet my only pair of Jordans at the time on LeBron and Cavs winning so I was naturally nervous. Then when it finally looked like the Warriors were going to break the stalemate on a fastbreak attempt, LeBron seemingly came out of nowhere and saved the day. A couple seconds later, Kyrie Irving would hit a clutch 3 that would win the game. Then shortly after that, the Cavs were being named NBA champions and the Cleveland sports curse was no more.
I've never witnessed such great performances or drama from any game like this before. This is just my personal opinion, but LeBron winning this game automatically put him over Jordan. In terms of rings LeBron isn't there at all, but if we are being realistic would Michael Jordan lead that same Cavs team from a 3-1 deficit? Nobody will ever know, but all I know is that I witnessed one of the greatest feats by any athlete in that series.