The University of Washington Huskies won their opening round NCAA tournament game against the Utah State Aggies 78-61. And one of their star players Matisse Thybulle's dad was a huge center of attention through out the game and was even mic'ed up during the broadcast due to his extreme enthusiasm. But there was one fan, and there is always one salty old person who isn't thrilled and we found her. Check out this lady in the purple behind Mr.Thybulle when he dances briefly during a timeout:
This lady isn't thrilled with people dancing ??

— Sports ON Tap (@SONTHighlights) March 23, 2019
I can't stop watching this on loop and laughing. I mean she is absolutely so upset that anyone would ever have the audacity to dance or celebrate. Look at this face.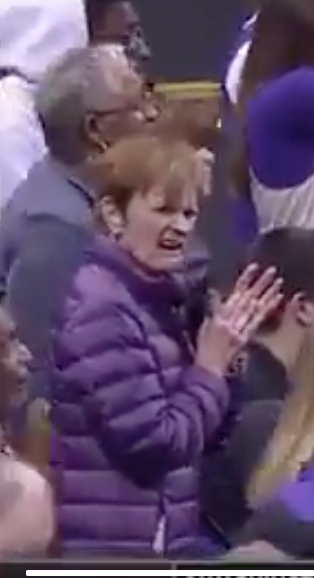 She's absolutely disgusted. If she's not aware Matisse lost his dad when he was 17 and his dad is always in the stands to make sure he supports. Here's one clip of him during the game. Keep on dancing Mr.Thybulle!
Matisse Thybulle lost his mother when he was 17

His dad is making sure there's always support in the bleachers#MarchMadness pic.twitter.com/CAqj7cA8O9

— Bleacher Report (@BleacherReport) March 22, 2019