With the NFL draft now in the past, and free agent signings relatively wrapped up we are fast approaching the start of a new football season in a couple months. A lot of different moves have been made, and this is SONTLive writer Simon Villanoz evaluation of every team's offseason as of now. A division will be evaluated every week and a team released one by one. Today we cover The:
Tampa Bay Buccaneers
Significant Additions:
Jason Pierre-Paul
Vinny Curry
Ryan Jensen
Chandler Catanzaro
Beau Allen
Significant Losses:
Doug Martin
Chris Baker
Robert Ayers
Draft:
Vita Vea (12)
Ronald Jones II (38)
M.J. Stewart (53)
Carlton Davis (63)
Alex Cappa (94)
Jordan Whitehead (117)
Justin Watson (144)
Jack Cichy (202)
Significant Undrafted Free Agents:
Austin Allen
Before I start, I just want to say that there was never a point where I thought Jameis Winston was better than Marcus Mariota. I remember, when the Bucs took Winston over Mariota I thought it was a mistake. In my opinion, the only reason why Winston was taken over him was that he played in more of a pro-style offense. Other than that, I've always thought Mariota was simply a better quarterback. Now after a couple years, it's showing and people are wondering why the Bucs still struggle. Since 2010 they've had one winning season. This past season they only won 5 games. I'm just predicting it here, but if Winston doesn't get the Buccaneers to the playoffs this season (or progresses, he's never thrown over 10 more touchdowns than interceptions ever) then look for the Buccaneers to select a quarterback in next year's draft.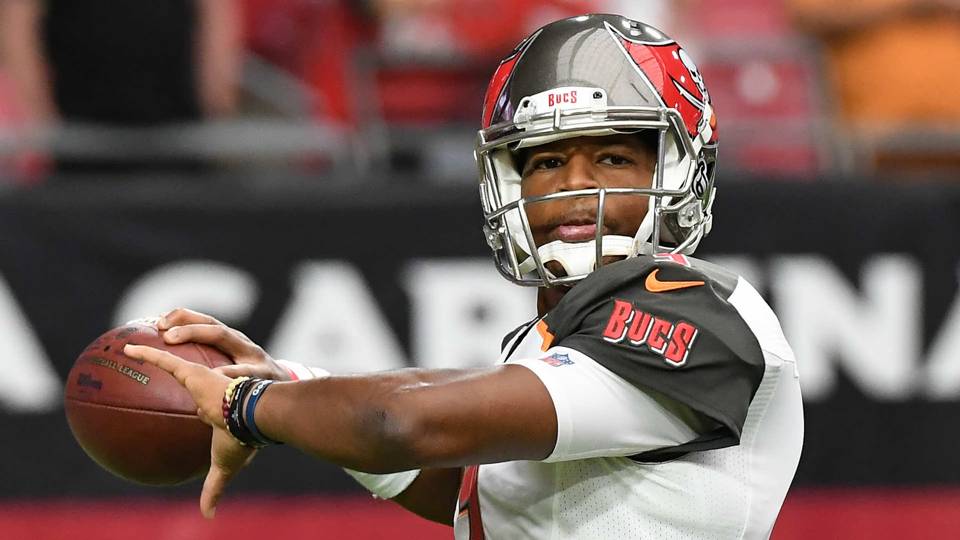 This offseason wasn't bad for Tampa Bay. They definitely made some significant strides to get better.  Acquiring Jason Pierre- Paul was their best move before the draft. He's coming off an 8.5 sack season, and I think he still has a lot of game in him even at 29 years old. JPP should give them at least another 3 solid seasons. For head coach Dirk Koetter, having a good amount of success for two of those three seasons should be enough to let him keep his job. They let go of Doug Martin before the draft as well, but that wasn't too big of a loss considering how wildly inconsistent he was.
Their draft was a solid one. It's one of those drafts that I believe has at least two cornerstone players in. Vita Vea was their first pick, and he's simply a monster. Vita Vea was one of the few sure things, in this year's draft. He's a monster of a man who will one day replace Gerald McCoy who turned 30 last February. McCoy still has a few solid years left in him, so, for now, I think they will live with having Vita Vea side by side with him and Jason Pierre Paul.
After taking Vita Vea, Tampa Bay would select Ronald Jones II in the 2nd round. Jones was an underrated prospect despite having a good last collegiate season. He's a running back who found a lot of success at USC, and I'd be surprised if he's not a day one starter. If it wasn't for this draft class being so heavy at talented running backs, Ronald Jones would've been a first-round pick. If he simply waited a year and duplicated his stats from this past season there's no doubt he would've been taken in the first round of next year's draft. Hopefully, Ronald Jones II will provide some stability at the running back position.
Then after taking Ronald Jones II, the Bucs would take cornerbacks Carlton Davis and M.J, Stewart. They are not necessarily the best corners at their position, but they were solid draft prospects who were taken in the right rounds. One of these guys should be a solid starter in my opinion, while the other one will be a good depth guy. Considering their best corner was probably an aging Brent Grimes, the Buccaneers can use this much-needed injection of use into their cornerback group.
It was a solid offseason for the Buccaneers. I don't see these moves making them into Super Bowl contenders necessarily, but I do think it will help them compete better in a tough NFC South division. No matter the moves it'll be up to Jameis Winston on whether the Buccaneers have a good season or not this year.
Tampa Bay Buccaneers Off-Season Grade: B