The New Orleans Pelicans have had a lack luster history. However, for having such a lack luster history they have had some fantastic players play for the organization since they moved from Charlotte to New Orleans. Including players like Chris Paul and Anthony Davis.The Pelicans are by no means a historic nor accomplished franchise but at least they have a couple potential hall of fame caliber players on their Mount Rushmore.
Anthony Davis
"The Brow" Anthony Davis is one of the best and young stars in the league and even though he is only 25 is already a 5 times All-Star and a All-Star Game MVP.
Anthony Davis just may be the future of the NBA. He won his first playoff series of his career last season and the Pelicans won their first ever playoff series as "The Pelicans".
During his young career he has averaged 23.7 points per game and 10.4 rebounds per game. He's also earned 3 times All-NBA and 3 times All-NBA Defensive team honors. Anthony Davis was traded during the 2019 off-season to the Los Angeles Lakers.
Chris Paul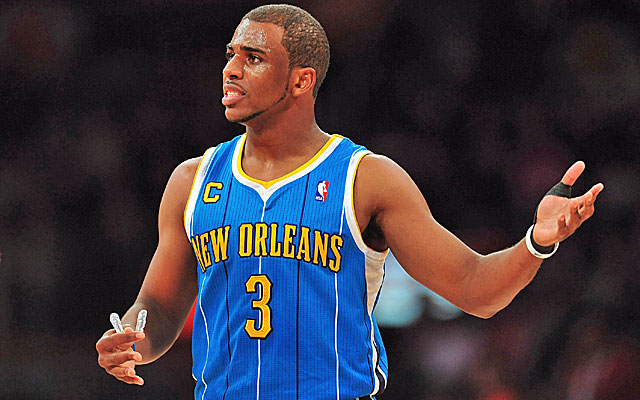 Chris Paul played six seasons for the franchise, winning Rookie of the Year, and making four All-Star teams and three All-NBA teams and two All-Defensive teams with the organization.
His masterful performance in the 2007-08 playoffs gave the organization their first playoff series win before pushing the San Antonio Spurs to seven games in the Western Conference Semifinals.
Chris Paul was magnificent in his time in New Orleans and was able to make a lasting impact on a franchise that was looking for a star. Chris Paul was the first star of this version of the New Orleans franchise.
David West
David Westjoined the then New Orleans Hornets as a rookie in 2003-04, one season after their franchise history is separated from the Charlotte Hornets in the NBA's official record books.
He Played eight seasons with the Hornets, twice making the All-Star team and averaging a robust 16.4 points, 7.3 rebounds and 2.0 assists per game.
He is still the franchise's all-time leader in games, minutes, points and rebounds. And he was an ultimate sidekick for Chris Paul. David West was one of the NBA's toughest players and was known as a "muscle".
Baron Davis
Baron Davis came to New Orleans as an All-Star, the point guard of the Hornets for a new generation after the team moved from Charlotte in 2002.
Davis led the NBA in steals in 2003-04, also finishing second 3-pointers and fourth in assists.
In parts of three seasons in New Orleans, Davis averaged 20.2 points, seven assists, four rebounds and 2.1 steals in 38.3 minutes per game, shooting .398/.329/.698.
Grade: 1 Cliff