The Memphis Grizzlies are a relatively new franchise. They moved from Vancouver, Canada to Memphis and made a few playoff appearances and one Western Conference Finals appearance.This Mount Rushmore is one of the least underwhelming Mount Rushmore's on the list. However, since they are such a young franchise their is a lot of room for growth.
Mike Conley
Conley took a few years to grow, but by 2010-11, he became a strong caretaking floor general and a heady defender. After averaging 13.7 points and 6.5 assists per game, he bumped it to 15.2 points per game in the playoffs.
2012-2013 was his first of three straight years in the top six in steals per game. In 2012-13, he led the league in steals with 174 while grabbing 2.2 per game. Conley was named to the All-Defensive Second Team that year.
Despite all his success Mike Conley has never made an All-Star team despite for a while being the highest paid player in the NBA.
Pau Gasol
Before Pau Gasol was traded to the Los Angeles Laker's he was a Memphis Grizzly. He was the first true superstar for Memphis and helped take them from a cellar dweller to a playoff contender.
He won the 2001-02 Rookie of the Year award, averaging 17.3 points, 8.7 rebounds and two blocks per game.
Also, he was fourth in the league with a 51.8 percent field-goal clip. Gasol led the team in scoring average during all seven years in Memphis, and led in rebounding five times.
Marc Gasol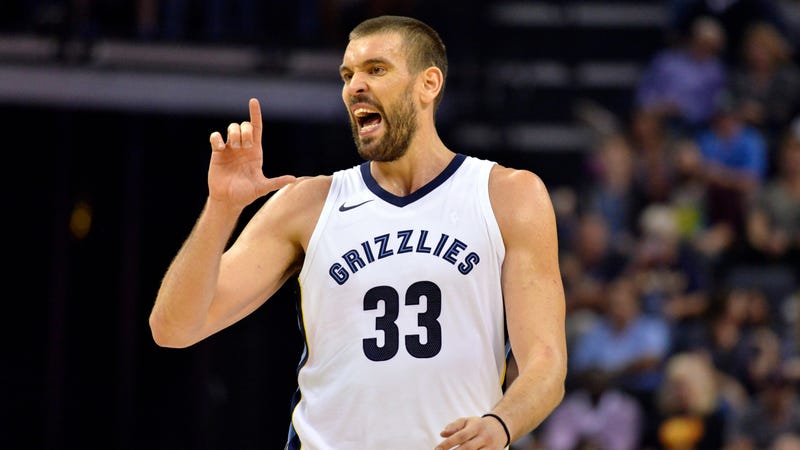 Marc Gasol is the best Memphis Grizzly of all time. He's won a defensive player of the year award and he has led the Grizzlies to multiple playoff appearances and a Western Conference finals appearance.
Gasol has averaged 16.4 points per game and 8.7 rebounds per game during his career all with the Grizzilies.
Gasol spent the majority of his career in Memphis but was traded this NBA trade deadline to The Toronto Raptors where he helped them win their first every NBA Championship against The Golden State Warriors.
Zach Randolph
The union of Zach Randolph and the Grizzlies was the best thing ever to happen to both parties. Randolph had become a punchline due to his erratic play and off-court incidents. Meanwhile, the Grizzlies had resumed their place as a Western Conference cellar dweller, winning fewer than 25 games three straight times.
Until Randolph arrived. Randolph had been a bully on the inside during the playoffs as a Grizzly. He's posted 17.8 points and 9.7 rebounds per game across five postseasons and 52 games for Memphis.
Zachary McKenley Randolph, also known as Z-Bo, is an American professional basketball player, presently signed with the California-based American professional basketball team 'Sacramento Kings,' which competes in the 'National Basketball Association' (NBA) games. He played for 'Michigan State University' during college and following his freshman season, entered the 2001 'NBA' draft of the 'Portland Trail Blazers.' T