The Utah Jazz were founded in 1974 and are a fun franchise that has never won an NBA championship. They made the finals in back to back to years in 1997 and 1998 and lost both finals to the Chicago Bulls.They have a great tradition and some high end players that made their Mount Rushmore.
Karl Malone 
Karl "The Mailman" Malone is the only player in Jazz franchise history earn NBA MVP honors.
He was a 14-time All-Star in Utah and a two-time All-Star Game MVP, winning in 1989 and sharing the honor with teammate John Stockton in 1993.
While never leading the NBA in a major category, Malone finished in the top five in scoring 13 times, in rebounding four times, in minutes per game four times and in field-goal percentage in 1989-90. He retired as the 2nd most points scored of all time.
John Stockton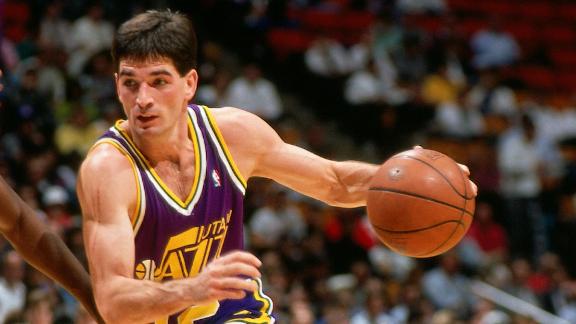 John Stockton was one of the greatest point guards of all time.
Stockton made the All-Star game 10 times in career.11 All-NBA selections and was picked All-Defensive five times. John Stockton was the ultimate point guard.
He and Karl Malone made the NBA Finals in back to back years only to lose to the Chicago Bulls on both occasions.
Pistol Pete Maravich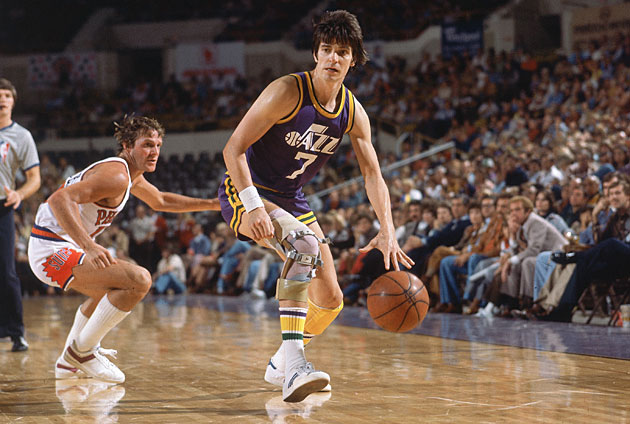 career ended early but he was a smooth passer and crazy shot creator who played a brand of basketball well ahead of his time.
He was showtime like know one has seen before.
Maravich played six seasons for the New Orleans and Utah Jazz, making three All-Star teams and averaging 25.2 points, 5.6 assists and 4.3 rebounds per game.
Adrian Dantley 
Adrian Dantley was a great wing scorer, twice leading the NBA in scoring during his seven seasons with the Jazz. In all, he averaged 29.6 points, 6.2 rebounds and 3.7 assists for the team, making six All-Star appearances. Only Stockton and Malone have scored more points in a Jazz uniform.
Source: Anyone wanting to get a line on Adrian Dantley the basketball star need only look at his career statistics: 23,177 points, ninth on the NBA career scoring list at time of retirement; a .540 field-goal percentage, one of the highest ever recorded by an NBA non-center; and 30-plus points per game for four straight seasons. He was a smart, fundamentally sound player who relied on both strength and finesse.
Anyone wanting to understand Dantley the man should hear an often-told story from his youth that was recounted in the Dallas Morning News. While in ninth grade, Dantley got a 99 on a history test; no other student scored above 80. His teacher, Morgan Wooten, who was also Dantley's basketball coach, suspected that young Adrian had cheated. So he stood Dantley up and made him answer questions in front of the class. Dantley got them all right, stunning Wooten. "I never should have underestimated you," he later said to Dantley.