Intro
Every MLB team has it's own rich history, it's own greatness and it's own pantheon of who is the greatest players in the franchise's history. I decided to take a huge stab at this very important task. We need to take every team's 4 best players of all time and try to make a Mount Rushmore.
We graded each mount Rushmore on a scale of 1-4 "cliffs" 1 being the worst and 4 being the best. There's two teams on each page. 
AL West Teams ( Anaheim Angels, Oakland Athletics, Seattle Mariners, Texas Rangers) 
Anaheim Angels
As a relatively newer team, The Angels have won a world series and have had some huge names in baseball. Founded in 1961 The "Los Angeles Angels" name originates from the first Los Angeles-based sports team, the Los Angeles Angels, who took the name "Angels" from the English translation of "Los Angeles", which means "The Angels" in Spanish.
Mike Trout
Mike Trout is in his 9th season with The Angels and has signed the largest contract in Major League History at 12 years and 430 million dollars. And he is the best Los Angeles Angel of all time. Trout is The Angels all time leader in WAR at 69.6.
Trout is the only player in franchise history to win multiple MVP awards with two. Trout has been something truly special for the Angels and The MLB, as without him who knows where the franchise would be. Not only is Trout the face of the Angels, he is the face of the entire MLB.
Trout is the modern day Mickey Mantle. He is without a doubt the greatest Los Angeles Angel to every play. He'll walk into the Hall of Fame and could go down as one of the greatest baseball players to ever live. And with a 12 year contract now etched with The Angels he'll be in Anaheim for years to come.
Nolan Ryan
Yes, you might not think of Nolan Ryan as an Angel. But there is no way for us to leave him off this list. He was absolutely dominant during his time in LA.
He had staggering stats is his 9.97 k/9 ratio, meaning Ryan averaged just about 10 strike outs per game, and his 3.07 ERA. Ryan leads the franchise in strike outs, is third in total wins, and is first in ERA of pitchers with over 1500 innings pitched.
When you think of Nolan Ryan you might think of his time more in Houston or Texas but he was still amazing in California. Ryan spent 10 seasons as a Halo and that earned him a retired number. And a spot on The Angels Mount Rushmore.
Mike Scoiscia
Mike Scioscia is one of the best managers of his time and up until his retirement the longest tenured manager in baseball. He managed The Angels from 2000 until 2018.
Not only has Scioscia been loyal, he has brought the franchise the most success it has ever seen. Granted, Scioscia has coached in 30% of the Angels seasons, he has led the team to 70% of their playoff appearances.
In the 39 seasons before Scioscia the Angels made the playoffs only three times. Scioscia's Angels made the playoffs six times in his first decade as manager, winning it all in 2002.
Tim Salmon
Tim Salmon is known as "The Big Fish" and was not only an all time Angels legend but had some of the best plays in Center Field in the MLB during his time.
Tim Salmon is a fan favorite who spent his entire 14 year career with the Angels.
He ranks second to Trout in offensive bWAR. Salmon also ranks third in career on base percentage and is tied for third in slugging percentage. He's the Angels' all-time leader in home runs and walks.
Grade: 2 Cliff 

Houston Astros
The Houston Astros won their first World Series in 2017. One of the last franchises in baseball to reach a World Series, the Astros were able to win the elusive title. A good franchise with some great players. The Houston Astros Mount Rushmore is very impressive.
Jeff Bagwell
Jeff Bagwell didn't take long to make his mark felt in Houston. He won the 1991 National League Rookie of the Year and then 3 years later in 1994 he won the MVP award.
Sometimes, Bagwell is overshadowed because of the crazy numbers the PED era produced but he still made four All-Star G
When Craig came up to the MLB with The Astros he was a catcher. He even made an All-Star team and won a silver slugger as a catcher. But he was moved to 2nd base in 1992 and that's when his career really took off.ames, won three Silver Slugger award and took home a Gold Glove.
He had six straight seasons with 30 home runs, 100 RBI, and 100 walks joining Babe Ruth, Lou Gehrig and Jimmie Foxx as the only players at the time to ever accomplish such a feat.
Craig Biggio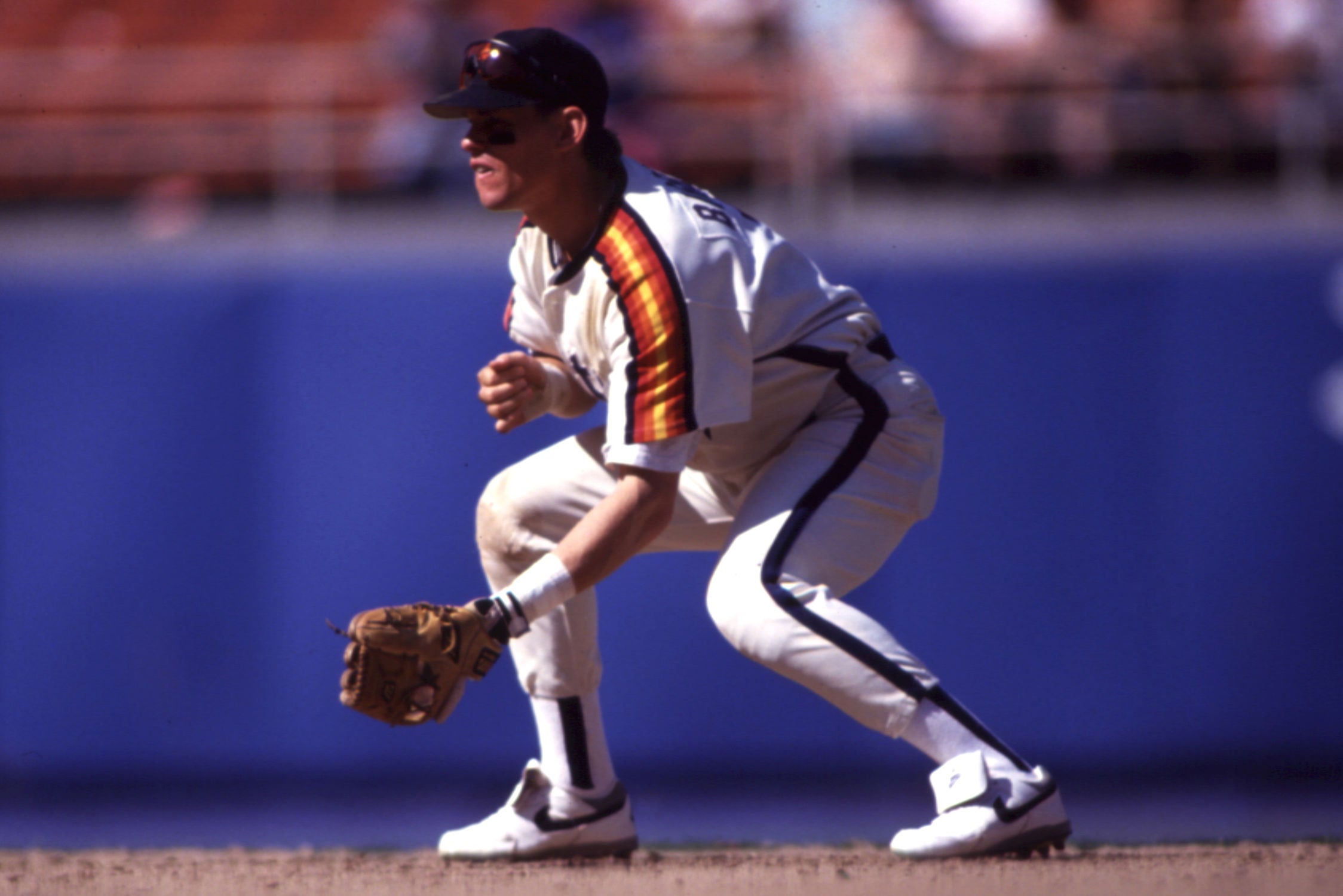 When Craig came up to the MLB with The Astros he was a catcher. He even made an All-Star team and won a silver slugger as a catcher. But he was moved to 2nd base in 1992 and that's when his career really took off.
He was named to the All Star team six times, and won four Silver Sluggers and four  Gold Gloves. Later in his career he moved to center field, and then returned back to 2nd base in 2005. Wherever, The Astros asked Craig to go he was willing to go.
He was always a star in the batter's box finishing with a .281/.363./.433 batting line. And he barely missed on the elusive 300/300 club with 291 home runs and 414 steals. Biggio however did have over 3,000 hits in his career.
Nolan Ryan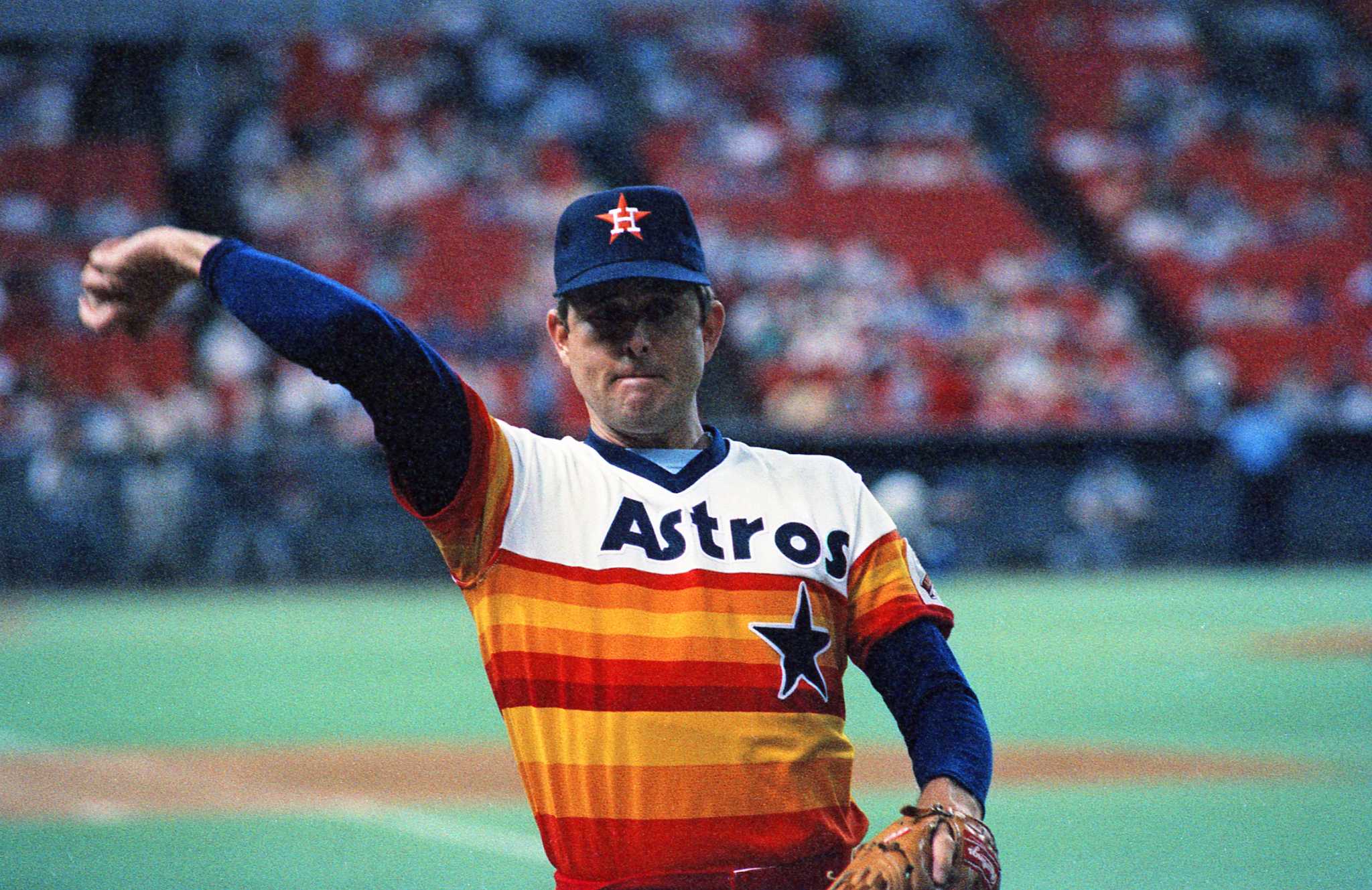 Nolan Ryan became the first million dollar player with The Houston Astros and spent 9 seasons in Houston.
He had two ERA titles and two strikeout titles in his time with Houston and had some impressive .898 WHIP during his 6 playoff starts with the Astros.
So yeah, many might think of The Rangers with Nolan Ryan but some of his best years did come in Houston and he leads the franchise in strikeouts and had a 3.13 ERA.
Jose Altuve 
Jose Altuve might be small in stature but his bat packs a huge amount of punch to make up for his 5 foot 6 size.
Altuve helped lead the Houston Astros to their first and only World Series championship during his 2017 MVP season. Altuve batted .346 with 24 home runs and 81 RBI and 32 Stolen Bases.
Along with his World Series and MVP. Altuve has more hardware. He has led the league in batting average 3 times, has 5 Silver Slugger's and has a Gold Glove.
Grade: 1 Cliff 

Oakland Athletics
With A 3-Peat In The 1970s and 9 World Series Championships. The Oakland Athletics have won of the better and more historic Mount Rushmore's in all of baseball. They are led by the greatest lead off hitter in baseball history.
Rickey Henderson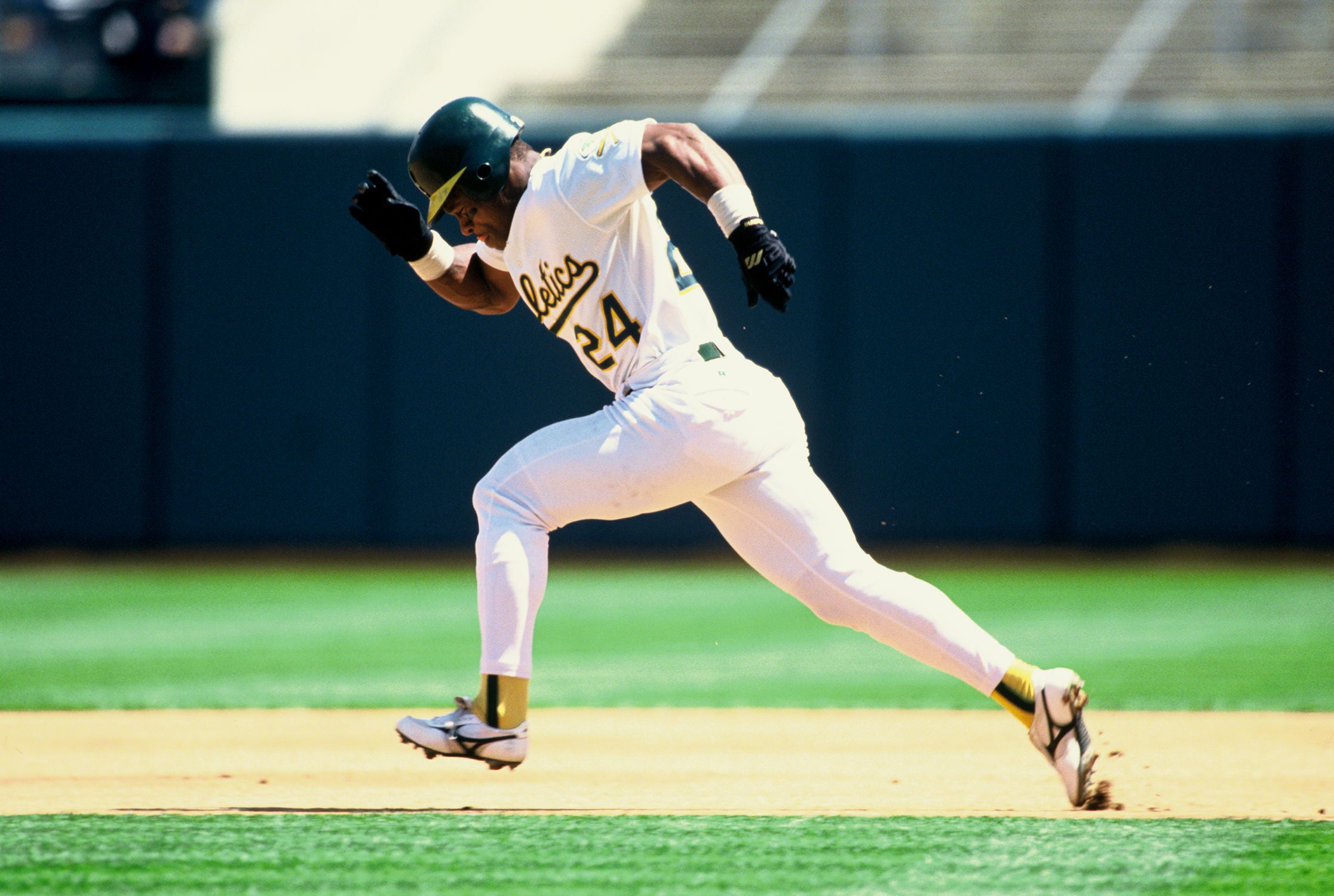 Rickey Henderson is the greatest leadoff hitter in baseball history. And there might never be a player quite like Henderson again.
He was a seven time All Star with the Athletics, won the 1990 AL MVP award, and was a three time Silver Slugger. Henderson led the AL in steals eight times while in Oakland, including three seasons with 100 or more stolen bases.
Rickey Henderson is the all time leader in steals in baseball history. If you just count his stolen bases during his time in Oakland his 867 steals would be good for 4th all time.
Dennis Eckersely
Oakland turned Dennis Eckersely  a reliever. In Eckersley's nine seasons in Oakland, he was one of the most feared closers in baseball history.
He won both a Cy Young and an MVP in 1992 after leading the league in saves with 51. Eckersley owns the highest strikeout ratio and lowest walk ratio in franchise history.
Eckersely was part of the 1989 Oakland Athletics World Series title team.
Reggie Jackson
This is pretty easy. Reggie Jackson spent 10 of his 21 seasons in Oakland and won three straight World Series titles from 1972-1974.
During his time in Oakland Jackson hit 269 homers and won an AL MVP award.
Even though Reggie Jackson wore a Yankees hat into Cooperstown he will still be remembered as one of the all time great Oakland Athletics.
Catfish Hunter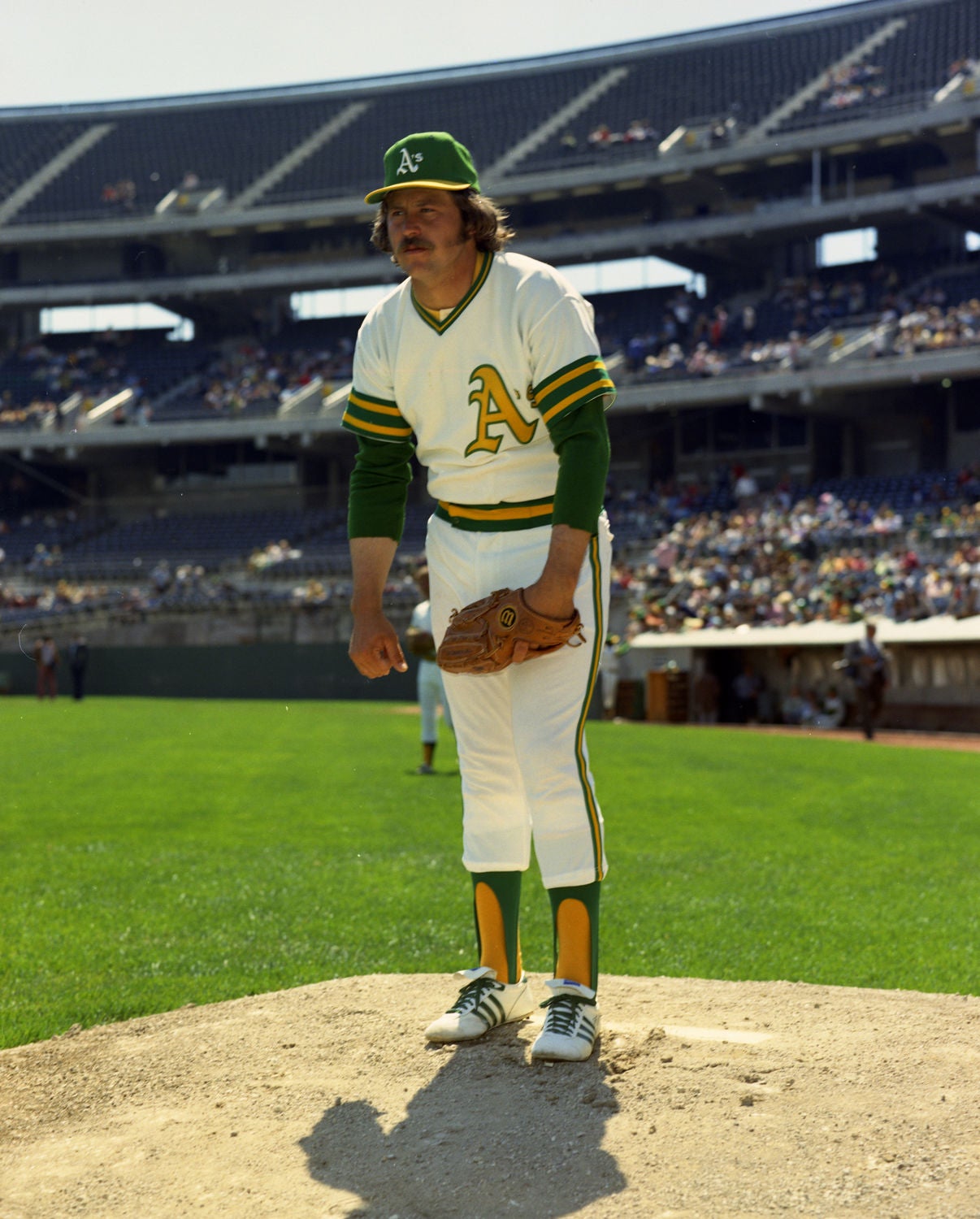 Catfish Hunter helped lead The Athletics to Three World Series titles in the 1970s.
He won The Cy Young Award in his last season in Oakland and has one of the best names in history of Major League Baseball.
Hunter owns the highest strikeout ratio and lowest walk ratio in franchise history.
Grade: 2 Cliff 

Seattle Mariners
The Seattle Mariners are the only American League team that has never appeared in a World Series. But that's a huge shame because they have an amazing Mount Rushmore with a couple Hall of Famers left off the list.
Ken Griffey Jr.
Ken Griffey Jr. is the greatest Mariner of all time and most probably the best player of the 1990s in all of baseball. He was a true 5 tool player and one of the most fun players to watch in all of baseball.
During his time in Seattle, Griffey was a ten time All Star, winning 1997 AL MVP award, and taking home ten Gold Gloves and seven Silver Slugger awards. He produced a .292/.374/.553 batting line, hitting 417 homers and 341 doubles. A threat to run early in his career, Griffey stole 167 bases in his time with the Mariners.
He went to The Cincinnati Reds where he never quite reached the same success as he did in Seattle due to injuries. He ended his career however, in a Seattle Mariners uniform.
Edgar Martinez
Edgar Martinez might just be the greatest DH of all time.
Martinez put together an excellent career. He was a seven time All Star and five time Silver Slugger, winning two batting titles and leading the league in doubles twice. Overall, Martinez had a .312/.418/.515 batting line, hitting 309 homers and 514 doubles. He had an outstanding batting eye, with 1283 walks and 1202 strikeouts in 8674 plate appearances.
He was inducted finally into The Hall of Fame in 2019.
Ichiro Suzuki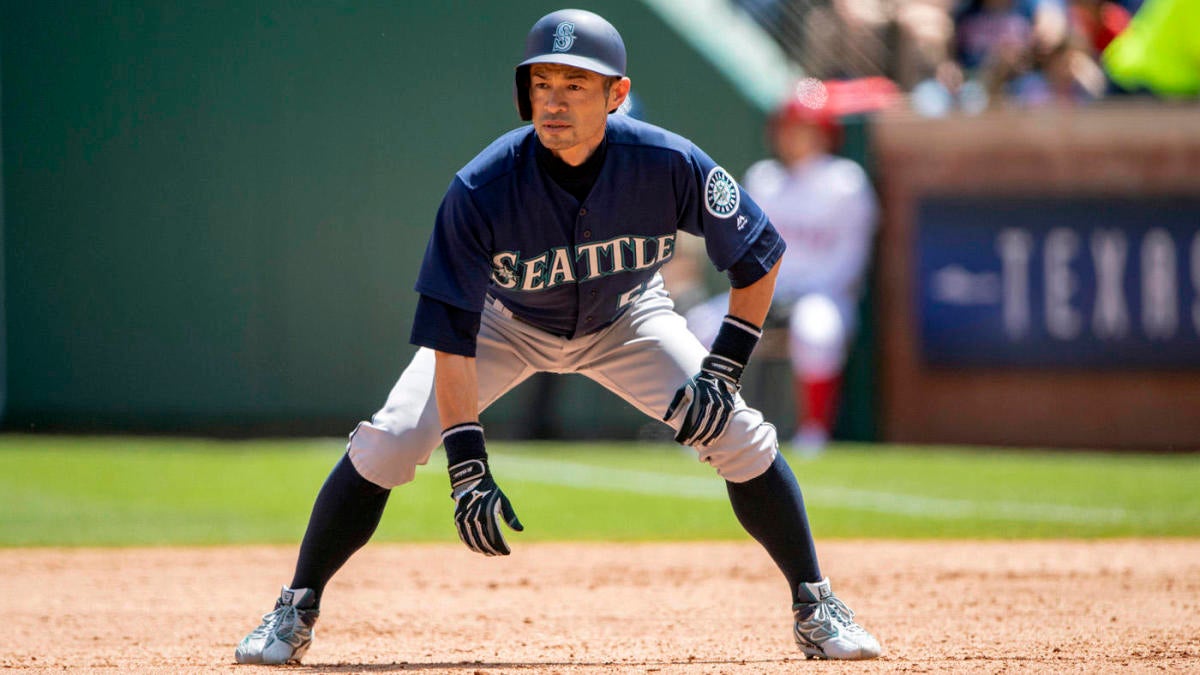 Ichiro was a huge star in Japan before he even set foot in a Mariners uniform. He was the first Japanese position player in MLB history.
He came in and took the MLB by storm. Winning Rookie of The Year and MVP in the same season as The Mariners won a record 116 games. Ichiro led the league with 242 hits, a .350 batting average, and 56 steals.
Three years later, in 2004, he broke the single season hit record, set by George Sisler in 1920.
Felix Hernandez 
Felix Hernandez has had an amazing career. But unfortunately, he might go down as the best pitcher in history of baseball to never appear in a playoff game.
Hernandez quickly became one of the top pitchers in the game, and a true workhorse for the Seattle Mariners. He made his first All Star Game in 2009 at just 23 years old, and the next year, won the Cy Young award. During his career, he has been a six time All Star, won two ERA titles, and led the American League in wins in his breakout 2009 campaign.
As to be expected, Hernandez has been one of the better pitchers in Mariners history. He has posted a 160-114 record with Seattle, along with a 3.20 ERA and a 1.184 WHiP. A workhorse who has eight seasons of 200 or more innings, Hernandez has pitched 2502.1 innings, striking out 2342 batters against 721 walks.
Grade: 4 Cliff 

Texas Rangers
Despite multiple World Series appearances The Texas Rangers have never won a World Series. They boast a unique and a solid Mount Rushmore for their squad and they are a pretty good Mount Rushmore.
Ivan "Pudge" Rodriguez
Ivan Rodriguez might just be the greatest defensive catcher in the history of baseball.
He was an eight time All Star and six time Silver Slugger, one of the top offensive catchers in the game.
He won eight Gold Gloves with the Rangers, and his defensive prowess was a part of his selection as the 1999 American League MVP. During his time with the Rangers, Rodriguez posted a solid .304/.341/.488 batting line. He belted 217 homers and 352 doubles in his 13 years in Texas.
Juan Gonzalez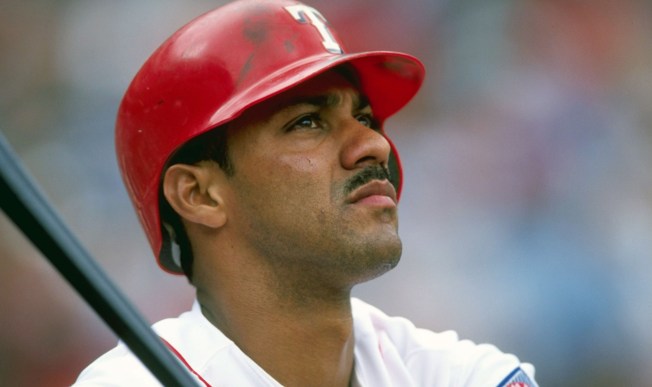 Sometimes us 1990s kids forget just how amazing Juan Gonzalez was.
At his time in Texas he led the league in homeruns twice. And he is the first ever Texas Ranger ( and only Ranger) to win two MVP awards.
Juan Gonzalez is still the franchise leader in home runs.
Nolan Ryan
Nolan Ryan is one of the greatest pitchers in MLB history and that is a known fact for how much of a workhorse he was.
Yes, Texas was at the end of his career but we had to include him on the Mount Rushmore especially since he wears The Texas Rangers hat in the Hall of Fame.
He only played 5 years in Texas but his impact was felt for years.
Adrian Beltre
Adrian Beltre was a fun player to watch and his in game antics that were playful just made him even more of a joy to watch day to day.
During his seven seasons in Arlington, Beltre has been a three time All Star, and a three time Silver Slugger. He has furthered his reputation as one of the best fielding third basemen in the game, winning three Gold Glove awards.
He even had 4 top 10 finishes in the AL MVP vote.
Grade: 2 Cliff