With the NFL draft now in the past, and free agent signings relatively wrapped up we are fast approaching the start of a new football season in a couple months. A lot of different moves have been made, and this is SONTLive writer Simon Villanoz evaluation of every team's offseason as of now. A division will be evaluated every week and a team released one by one. Today we cover :
The Kansas City Chiefs
Free Agent Additions:
Robert Golden
Damien Williams
Xavier Williams
Chad Henne
Anthony Hitchens
Sammy Watkins
Kendall Fuller
Losses:
Tamba Hali
Ron Parker
Marcus Peters
Alex Smith
Bennie Logan
Zach Fulton
Terrance Mitchell
Albert Wilson
Draft:
Breeland Speaks (46)
Derrick Nnadi (75)
Dorian O'Daniel (100)
Armani Watts (124)
Tremon Smith (196)
Reginald McKenzie Jr. (198)
Significant Undrafted Free Agents:
Chase Litton
Byron Pringle
The Kansas City Chiefs is the first team I'm giving an F on for their offseason. Which means they're the first team to take an L before the season has even started. Sammy Watkins was their best offseason move, and he's only played all 16 games once in his career. They traded Alex Smith even though he had a good season, because they believe in Patrick Mahomes more now? He started one game against the Broncos where he threw for 269 yards and one interception. Also it was a game that didn't really matter, so imagine what would happen if he played a game that actually did. Then they traded Marcus Peters to the Rams because they didn't want to eventually pay arguably the best young corner in the league. Although the Chiefs was one of the most talented teams this last season, for some reason they decided to trade away a quarterback who's always been good to them and one of their best defenders. It's baffling to see the Chiefs make these moves.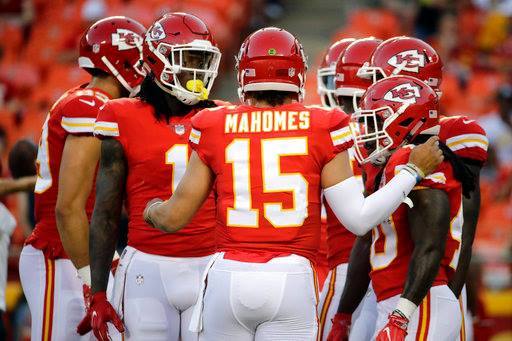 Then here comes the draft. Kansas City already shot themselves in the foot by trading their first round pick this year to move up and take Mahomes last year (even though Deshaun Watson is way better). So they didn't have a pick until the second round. In the second round they reached heavily for Breeland Speaks a defensive lineman that they honestly didn't really need. Their were at least four other defensive tackles who were way better. They then took yet another defensive tackle in the third round, which doesn't make sense at all but at least they didn't reach for him. They would then take a middle linebacker which makes even less sense since they signed Anthony Hitchens and they already have a young middle linebacker in Reggie Ragland. So it's obviously a depth pick, but in the third round? There are players still available who can probably be starters sooner than Dorian O'Daniel can on the Chiefs. Taking safety Armani Watts was the only pick they made that not only made sense, but wasn't a reach. He will be able to replace long time starter Ron Parker who they let go of this offseason. In the 6th round they attempt to replace Marcus Peters (or add depth to their cornerback spot, I don't know with them at this point), by selecting Tremon Smith out of Central Arkansas. Then they select Kahlil McKenzie in the 6th round a guy who played defensive tackle in college at Tennessee, only so that he can play guard or center for them.
Luckily the Chiefs are still super talented with young players in Travis Kelce, Tyreek Hill, and Kareem Hunt. So this offseason probably won't hurt them as much sooner than it will much later. If Patrick Mahomes develops, then this offseason wouldn't be the worst thing to happen for the Chiefs. If he's not ready, then Kansas City get ready for a bumpy ride.
Kansas City Chiefs Final Grade: F