A controversy arose over a racist image posted on social media believed to be posted by four students at the University of Tennessee spilled over into the stands at the SEC matchup against Mississippi State.
Outrage was ignited last week when a social media image began to circulate showing two of the four white males involved wearing a dark substance on their faces with a caption reading:
"We for racial equality boys. Bout to get this free college now that I'm black let's gooooo #blacklivesmatter"
I thought long and hard about posting this but it hit an emotional spot for me for people to think that i did not EARN what was given to me because of my race. pic.twitter.com/5ulc1X3jUC

— jas (@jxxsie_) February 28, 2019
The university issued a statement:
Earlier today, the university was made aware of a screengrab of a Snapchat photo that included four individuals we believe to be our students. Two of them were in blackface. The image is repulsive and the caption abhorrent. The racism displayed in this image does not represent the behavior we expect of students or our Volunteer values. The Bias Education Response Team—in collaboration with the Office of the Dean of Students—has been made aware of the situation and the university is determining how to handle this incident. Federal law prohibits the university from sharing how the university handles matters with individual students.
However this statement was considered weak by the students attending the basketball game: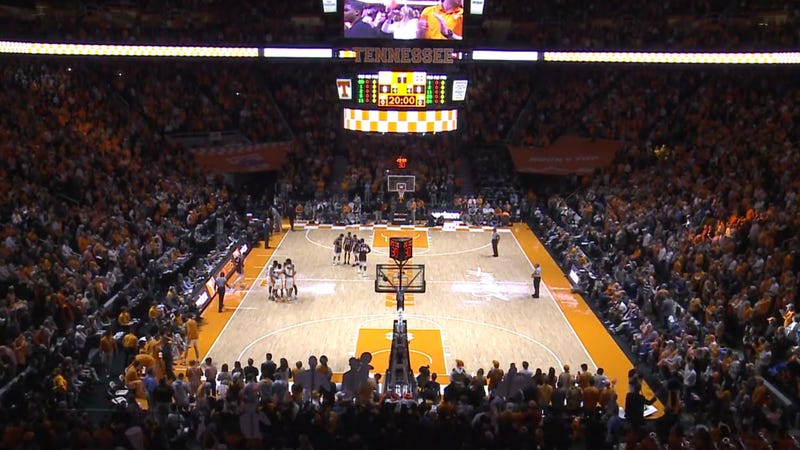 Those students remained seated during the national anthem as a form of protest.The News-Sentinel reports that the students led several chants condemning racism and calling for the students involved to be expelled.
"Hey, hey, ho, ho, racism has got to go," the students chanted.

"No justice, no peace, no racist, UT," they said another time.

"What do we want? Expulsion! When do we want it? Now!" they chanted at halftime.

They also came with signage reading "#UTDiversitymatters."
One of the students who was involved in the photo left the university