Former NBA All-Star Steve Francis has spoken out about his past and present history of alcohol and drug use, denying he ever used crack following his playing career but admitted that he drank heavy.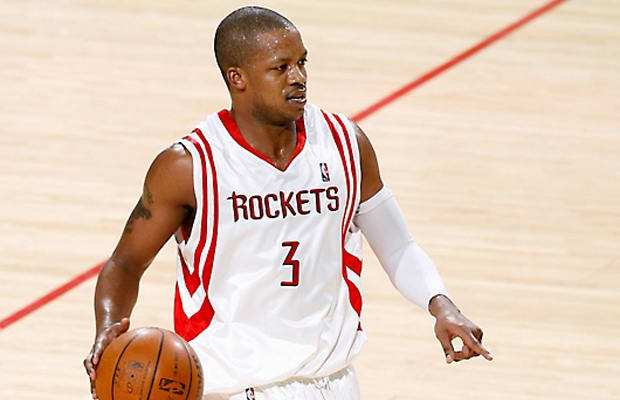 Francis wrote about his experiences in a first-person story for The Players' Tribune:
I had some dark days, no question. And I know people were asking, "What the hell happened to Steve Francis?" But the hardest part was reading some bullshit on the Internet saying that I was on crack. When I thought about my grandmother reading that, or my kids reading that … that broke my heart. Listen, I sold crack when I was growing up. I'll own up to that. But never in my life did I ever do crack.
What happened to Steve Francis? I was drinking heavily, is what happened. And that can be just as bad. In the span of a few years I lost basketball, I lost my whole identity, and I lost my stepfather, who committed suicide.   
Francis also told his history of selling drugs, which began at the age of 10 when he became a "phone boy."
"It was easy. I'd wait outside the Chinese spot and sit on the curb by the pay phone, looking all innocent, and whenever the phone would ring, I'd answer," Francis wrote. "It was always people looking for drugs, looking for girls, looking for whatever. I'd tell them where to meet the dealers, and that was it. All day, all night. It would be 50 drugs dealers standing outside on one corner, and 50 drug dealers standing on another corner. And then Lil Steve, posted up by the pay phone."
The 2nd pick in the 1999 NBA draft, Francis took a weird path to the NBA. When his mother died of cancer in 1995, Francis took two years off of playing basketball, selling drugs to make ends meet after dropping out of high school.
"Four years before I was on that plane with Hakeem telling me we're going shopping for cashmere suits together—four years before I was about to go play against Gary Payton—I was on the corner of Maple Ave in Takoma Park, Maryland, selling drugs outside the Chinese joint,"

"My mother had passed away. My father was in a federal penitentiary. We had 18 people living in one apartment. I had dropped out of high school. No scholarships. No GED. No nothing."
Francis then attended San Jacinto College of Texas and the Allegany College of Maryland before transferring to Maryland, where he earned All-American honors and played one season before entering the NBA draft. He was almost instantly a star, winning NBA Rookie of the Year in 2000 and earning three All-Star berths (2002-04) with the Houston Rockets.
Injuries, and a trade to the Orlando Magic for Tracy McGrady, ultimately derailed his career. Francis averaged 21.3 points per game his first season in Orlando and never more than 16.2 again, and he was out of the NBA following the 2007-08 season. Just four years after his last All-Star appearance, a 31-year-old Francis would never play another NBA game.
"I went from selling drugs on the corners in D.C. to the NBA in four years … and now it's over? It's a wrap? At 32? I knew it was the end, and that's some really, really hard s–t to swallow. I don't care who you are," Francis wrote.

"I went to play in Beijing for a minute, and then I tried getting back into the NBA for a while, but … nothing. It took me damn near four years to really accept that I wasn't gonna play ball anymore. That it was really over."
Francis' post-playing career has mostly featured him staying out of the public spotlight, with rumors of drug and alcohol issues making headlines, though he has denied drug use.