Inside look and predictions to All-Star Weekend By Kodey Stauffer:
Celebrity Game
When?
Feb. 16 at 7 p.m. ET on ESPN.
Who?
Clippers
Lakers
Coach: Katie Nolan

Asst. Coach: Common

Asst. Coach: Paul Pierce

Coach: Rachel Nichols

Asst. Coach:Tracy McGrady

Asst. Coach: Michael B. Jordan

Anthony Anderson

Brandon Armstrong

Miles Brown

Win Butler

Common

Andre De Grasse

Stefanie Dolson

Jamie Foxx

Paul Pierce

Dascha Polanco

Bubba Watson

Jason Williams

Quavo

Sterling Brim

Nick Cannon

Terence Crawford

Rachel DeMita

Jerry Ferrara

Marc Lasry

Tracy McGrady

Caleb McLaughlin

Candace Parker

Nate Robinson

Drew Scott

Krus Wu

Justin Bieber
What's New?
4 Point Line!
During 4-4, Ruffles will donate $4,000 for every shot made during the second half from the 4 point line.
Winner?
As fun as the Clippers line-up is it's hard to imagine that team Lakers lose with so much actual basketball experience between Candace Parker, Tracy McGrady, and the ageless Nate Robinson. Recent announcements of Quavo are intruiging and strengthens the Clips, but the Lakeshow (featuring people from actual shows) will take the dub
Final:
Clippers: 44                        Lakers:53
MVP: Nate Robinson
Rising Stars Challenge
When?
Friday, Feb. 16 | 9 p.m. ET
Who?
World Team
US Team
No. | Player (Team) | Pos.
8 | Bogdan Bogdanovic (Kings) | G
24 | Dillon Brooks (Grizzlies) | F-G
21 | Joel Embiid (76ers) | C
24 | Buddy Hield (Kings) | G
24 | Lauri Markkanen (Bulls) | F
27 | Jamal Murray (Nuggets) | G
11 | Frank Ntilikina (Knicks) | G
11 | Domantas Sabonis (Pacers) | C-F
9 | Dario Saric (76ers) | F
25 | Ben Simmons (76ers) | G-F




No. | Player (Team) | Pos.
2 | *Lonzo Ball (Lakers) | G
13 | *Malcolm Brogdon (Bucks) | G
7 | Jaylen Brown (Celtics) | G-F
20 | John Collins (Hawks) | F-C
32 | Kris Dunn (Bulls) | G
14 | Brandon Ingram (Lakers) | F
0 | Kyle Kuzma (Lakers) | F
45 | Donovan Mitchell (Jazz) | G
1 | Dennis Smith, Jr. (Mavericks) | G
0 | Jayson Tatum (Celtics) | F
12 | Taurean Prince (Hawks) | F
5 | De'Aaron Fox (Kings) | G
* = injured and will not participate
Winner?
The US team is more exciting this year than I can remember in recent years, but the 76ers foreign forces will light up the scoreboard especially with actual All-Star Joel Embiid. Looking forward to the dunk-show from Team USA though.
Final:
MVP: Joel Embiid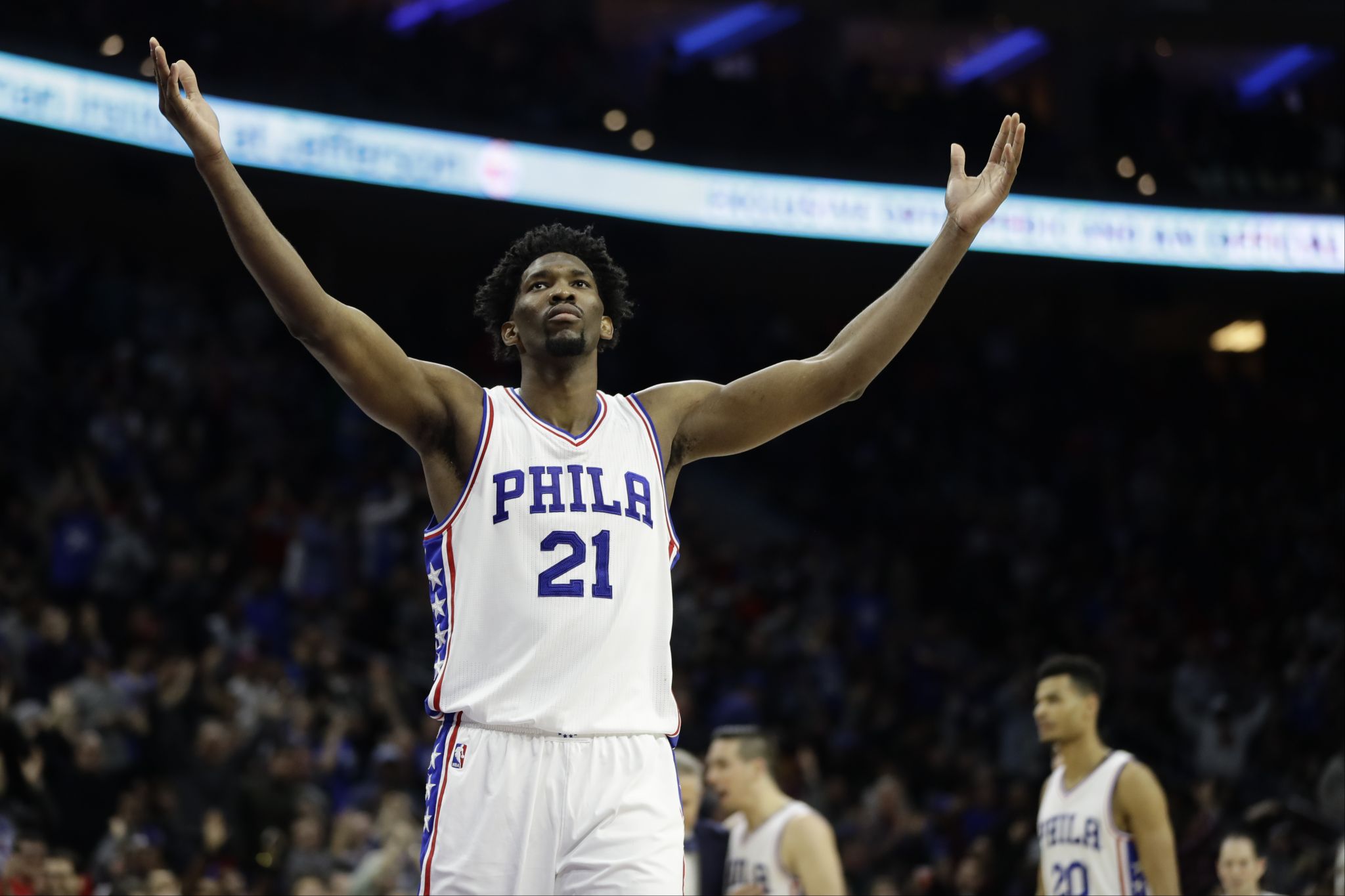 Skills challenge
When: Saturday, Feb. 17 | 8 p.m. ET (1st Event)
Who?
Spencer Dinwiddie
Joel Embiid
Al Horford
Lauri Markkanen
Buddy Hield 
Jamal Murray
 Andre Drummond
Lou Williams
Winner: Jamal Murray has been cooking up defenders with sweet handles, has his fair share of passing from the point, and has been knocking down 3s with defenders in his face making me think an open shot will bring the winning side back to the guards for the first time in three years.
3-Point
When?
Saturday, Feb. 17 | 8 p.m. ET (2nd Event)
Who?


Eric Gordon (Rockets),
Klay Thompson (Warriors), 
Bradley Beal (Wizards),
Paul George (Thunder),
Kyle Lowry (Raptors),
Devin Booker (Suns),
Wayne Ellington (Heat),
Tobias Harris (Clippers)
Winner?
I expect an upset against Klay or Eric, and whoever makes it past their upset will only fall later. I'm feeling a cold outing from Beal in LA and foresee Kyle Lowry winning his first three-point competition and bring Toronto their first winner since 2008 (for those wondering, it was Jason Kapono see below).
Dunk Contest
When: Saturday, Feb. 17 | 8 p.m. ET  (3rd Event)
Who?
Victor Oladipo (Pacers)
Case: He's the only one who has already been here and has experience in this contest. He is riding a wave of swagger being an All-Star this year and is having fun doing it that should carry over into the dunk contest.
Larry Nance Jr. (Cavaliers)
Case: Donning a new uniform than the one we all know his dunks from, doesn't plan on slowing down his ability to use his long arms and height (tallest participant) to put down some monster dunks. Maybe he can even use some trick that papa Nance used to win his dunk contest.
Dennis Smith Jr. (Mavericks)
Case: We all knew he could dunk in college, and he has maintained that ability to turn into an absolute posterizing machine in Dallas. For a team that's had many losses, perhaps their biggest win of the season comes at the dunk contest where Smith Jr. can show his variety of one and two-handed jams.
Donovan Mitchell(Jazz)
Aaron Gordon's injury adds another new face to the roster with the high-flying, ally-ooping, one-handed Jam-Master of Utah has shown up to display his seemingly instinctual dunks. Incredible trust from his team to bring it to the rim and his effortless glide should make for a good show.
Winner?
I feel that this year it can be really close, but rookie Dennis Smith Jr.'s arsenal just seems to extensive compared to the other contestants. I've seen him throw 360s, one-handers posters, and two-handed put backs in porous amounts. Smith Jr confirms all the speculation of being the most exciting rookie with a victory at the dunk contest (BOLD: He gets one 50-point dunk).
All Star Game
When?
Sunday, Feb. 18 | 8:20 p.m. ET
Who?
Team Lebron
Team Steph
·       LaMarcus Aldridge

·       Bradley Beal

·       DeMarcus Cousins (injured)

·       Anthony Davis (injured)

·       Kevin Durant

·       Kyrie Irving

·       Kevin Love (Injured)

·       Victor Oladipo

·       Kristaps Porzingis (injured)

·       John Wall (injured)

·       Russell Westbrook

·       Paul George

·       Andre Drummond

·       Goran Dragic

·       Kemba Walker

·       Giannis Antetokounmpo

·       Jimmy Butler

·       DeMar DeRozan

·       Joel Embiid

·       Draymond Green

·       James Harden

·       Al Horford

·       Damian Lillard

·       Kyle Lowry

·       Klay Thompson

·       Karl-Anthony Towns
Winner?
The real winner is all NBA fans with the new pick'em setup. The loser here is also NBA fans who are missing out on Porzingis, Cousins, Davis, Wall, and Kevin Love. Even with an assassin taking out half of LeBron's team, I like them to win the All-Star game with a lethal KD and LeBron team-up that will be fun to watch.
Final:
LeBron: 172                                   Steph: 162
MVP:
Kevin Durant