Intro
There's nothing better then Saturday's. From the food, to the atmosphere to the actual game day experience we all hold college football Saturday's with a special place in our hearts. We tried our best to narrow it down to 50 and here they are!.
50. Arizona State (Tempe, Arizona)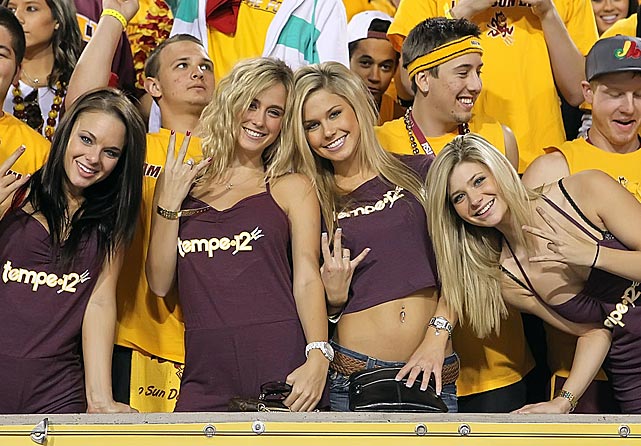 Arizona State is in Tempe, Arizona. Sun Devil Stadium can get loud and fun. The tailgates in the sun makes this a fun experience for any college football fan. Let's not forget that they also have some of the best looking girls in the country and seasonally great weather. The Arizona Sun Devil experience is absolutely amazing.
49. Arizona (Tucson, Arizona)
Wildcat football in Tucson can pretty fun. The reason this makes our list is the tailgating is wild, and the warm weather and sunshine in Tucson makes it a fun and memorable trip for a great college football experience.
48. Mississippi State (Starkville, Mississippi)
Mississippi State football starts off with tailgating that centers around the area called "The Junction" make sure you stop by there first for some fun partying. Make time to see the Dawg walk before the game and then enjoy some Bulldogs football.
47. Stanford (Stanford, California)
Parking lots open 5 hours before kickoff and the Stanford Cardinal and the tailgates are fun. With great foot options and an overall great environment.
46. University of Miami (Miami, Florida)
The Hurricane fan base knows how to drink. Just make sure before you head to the game to load up on plenty of water and expect a ton of great food at Hard Rock Stadium. Hard Rock Stadium, is far from the University but the students come ready to party in buses provided by the University.
45. Arkansas (Fayetteville, Arkansas)
One of the most scenic environments in all of college football. Arkansas home of the Razorbacks has beautiful mountain ranges near the stadium, but the Ozarks are only the beginning. Make sure to check out "The Gardens" before the game for some high level SEC tailgating.