LSU Tigers head coach Will Wade reportedly had a discussion about an "offer" for a recruit during a phone conversation in 2017 with business manager Christian Dawkins who just received a six month jail sentence on Tuesday because of his role for illegally paying basketball recruits.
On Thursday, Yahoo sports reported Wade was caught on wiretap talking about with Christian Dawkins about a "strong-ass offer" made for a player. The player in question is believed to be The LSU Tigers guard Javonte Smart who at the time was a 4 star prospect.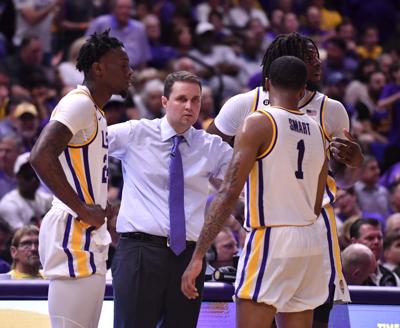 "I was thinking last night on this Smart thing," Wade said. "I'll be honest with you, I'm [expletive] tired of dealing with the thing. Like I'm just [expletive] sick of dealing with the [expletive]. Like, this should not be that [expletive] complicated."
Wade responded to the report to NOLA.com: 
 "I haven't read it. I don't have

any comment on that. … We'll move forward as we need to."
In February, Mark Schlabach of ESPN.com reported Dawkins' phone records showed three conversations with a number belonging to Wade between June 19 and June 30, 2017.
Blessed to say I am committed to LSU??.. bootUp pic.twitter.com/vWvy8XTIti

— Javonte Smart (@JavonteSmart) June 30, 2017
The reported conversations between Dawkins and Wade, who reportedly stated the offer was "tilted" toward the family so the player could take care of his mom, didn't include any specifics and didn't state whether the player had ever accepted the offer or not:
"The problem was, I know why he didn't take it now, it was [expletive] tilted toward the family a little bit," Wade said about a potential third-party involved. "It was tilted toward taking care of the mom, taking care of the kid. Like it was tilted towards that. Now I know for a fact he didn't explain everything to the mom. I know now, he didn't get enough of the piece of the pie in the deal."