With the start of the NBA regular season right around the corner, excitement surrounding the new look Los Angeles Lakers has continued to grow. Since LeBron made his highly anticipated announcement that he would indeed be taking his talents out West after much speculation he would do so, predictions have been thrown around left and right as to how well the fascinating collection of players will fare in the highly competitive Western Conference. King James, surrounded by a young nucleus of talent, as well as the additions of gritty veterans such as Lance Stephenson, JaVale McGee, Michael Beasley, and Rajon Rondo, will himself be entering his 16th NBA campaign. Still regarded by most as the best basketball player in the world, the LeBron James hype train seemingly added even more passengers after an unprecedented eighth consecutive trip to the NBA Finals, leading many to proclaim LeBron already has surpassed Michael Jordan as the greatest player of all time, or more simply referred to as, the GOAT.
As astounding and indisputably spectacular LeBron's career has been (and yes, it has been nothing shy of spectacular), Michael Jordan continues to reign supreme as the greatest to ever lace them up. That said, LeBron is without a doubt the single greatest athletic specimen to ever play the game. At 6'8 260, built like a tank, with the ability to jump out of the gym as well as handle the basketball better than most point guards, the skill set of LeBron James is something that is hard to duplicate. He can score with the best of them, he can rebound, play defense, and he is even one of the game's best passers dropping no looks like Jason Williams that send both home and opposing crowd's into a frenzy. Yes, LeBron is amazing. There is no argument for that. LeBron is universally considered either the first or second best player of all time. However, as he prepares to lead this captivating roster into the 2018-19 season, it only seemed appropriate to reignite the ongoing debate: who is the GOAT?
His name is Michael Jordan. In his rookie year out of North Carolina, Jordan took the NBA by storm. After being drafted by the Chicago Bulls 3rd overall, His Airness would take home the 1984-85 Rookie of the Year award posting 28.2 points per game, 6.5 rebounds, and 5.9 assists. Michael seemed poised to have an even more dominant sophomore campaign, however, an injury would sideline him for most of the year and he would appear in only 18 games. Despite the setback, would persevere. In the seven years following the injury Jordan would play in 80 or more games every year but one (he played 78 in 1992-93), lead the league in scoring each year with an average of at least 30 point per game in every season, and his leadership would help guide the Bulls to NBA Finals victories in '91, '92, and '93. Not only was Michael a menace offensively, but he was a terror on the defensive end of the floor as well. From his rookie year up until his first retirement prior to the beginning of the 1993-94 season, he led the league in steals three times and was named First Team All-Defensive team six times. He would add three more of those awards to his trophy case during his second three-peat.
After being on the cover of Sports Illustrated in high school, it was no surprise that comparisons to Jordan began right from the jump. LeBron would enter the league with what is likely the most hype surrounding any rookie in NBA history. Drafted in 2003 as the number one overall pick to his hometown Cleveland Cavaliers, similarly to the GOAT he would establish himself as a dominant individual attempting to lead a roster full of inferior talent to the postseason and beyond. However, he was unable to take that next step, failing to become an NBA champion. Although a ring may not have been attainable during LeBron's initial go round in Cleveland, stat sheets were filled to their capacity every night the King was on the floor. For the first seven years of his career he would average 27.8 points per game, 7 rebounds per game, and 6.9 assists per game. If you want to account for some defensive efficiency as well, he also accounted for 1.72 steals a game and .7 blocks during that span. Those are some impressive numbers. Hall of Fame numbers no question. But do me a favor and imagine this comparison: LeBron is Player A with those same numbers previously mentioned spanning the first seven years of his career. Now here is Player B: 31.5 points, 6 rebounds, 5.6 assists, 2.7 steals, and 1.1 blocks per game in the first six years of his career. One year less, same amount of championships, who would you rather have? Although opinions are subjective and I respect that, I'll take the better scorer and the better defender, whose rebound and assist numbers are also respectable. And who might that player happen to be? Well none other than Michael Jordan in the six seasons before he won his first title.
For all of those who elect to say Michael never won anything until he had Scottie, well, you're right. There is no piece of evidence one can present to negate the fact that Jordan did not win any titles until he had a supporting cast to help him beat Boston, and to beat Detroit. But the fact of the matter is that once he did have those pieces, he elevated his game to a whole other stratosphere and dominated the NBA. When Michael began winning championships, nobody else was going to, and that is what separates Michael Jordan from LeBron James. Jordan had Kobe's mentality on steroids; a killer instinct that nobody else in the league could compete with. None of Jordan's finals series even made it to a Game 7, a true testament of his assassin mentality.
LeBron did not win anything until he had help either. In fact, even with the benefit of having Dwayne Wade and Chris Bosh on his team, the LeBron led Heat would only go 2-2 in their four Finals appearances, losing to the Mavericks in James' first year in South Beach and to the Spurs in his final season before returning to Cleveland. And while his phenomenal comeback over the 73 win Warriors after trailing 3-1 in the Finals is something of great historical significance, a comeback of epic proportions, it is not enough to propel him above MJ. When Michael learned how to win, all he did was win. LeBron has lost more Finals than he has won, making it difficult to rank him above a man who was as dominant as Jordan was.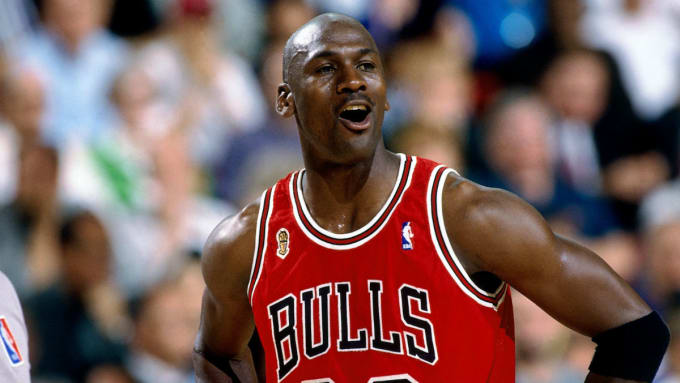 The comparison of these two all-time greats' 15th seasons in the league is a lazy one. LeBron was 33 years old and still in his prime, whereas Jordan was 39 year of age. Coming out of retirement for the second time, not to prove anything, but simply to scratch an itch he couldn't reach without basketball. As a 39 year old man on a hapless Wizards team, he could still get buckets. But when the comparison is made between LeBron and his abilities as a player today and Jordan's abilities in year 15, James was also 6 years younger. He will finish with more career points, rebounds, and assists than Jordan. LeBron also benefitted by not having to attend college, while Jordan also took almost two full years off in the middle of his prime to pursue baseball after the passing of his father. Overall, LeBron is amazing. Nothing in this piece is intended to disparage or diminish any of King James' tremendous accomplishments. He will finish his career at the top or near the top of nearly every category imaginable. Not to mention his leadership off the court which is nothing short of admirable. However, at the end of the day Michael Jordan went to the NBA Finals six times and won every time without ever appearing in a Game 7. He won an amazing ten scoring titles to LeBron's one, five MVPs to Bron's four, was on the All-defensive team nine times compared to six for LeBron, and he was a six time NBA Finals MVP. LeBron James is the greatest player of our era. But the legacy of one Michael Jordan is one that will never die. No matter how far into the past his run of dominance fades, the accolades will remain, proving once and for all that LeBron James is the second Greatest Player of All Time.