Intro
Every NBA team has it's own rich history, it's own greatness and it's own pantheon of who is the greatest players in the franchise's history. I decided to take a huge stab at this very important task. We need to take every team's 4 best players of all time and try to make a Mount Rushmore. If you have lived under a rock, and don't know what Mount Rushmore is.. It's a Mountain in South Dakota which at the time had the 4 greatest US Presidents of all time: George Washington, Abraham Lincoln, Thomas Jefferson, and Theodore Roosevelt. This is what it looks like if it was actually just the greatest basketball players of all time Mount Rushmore:
Here's the real Mountain.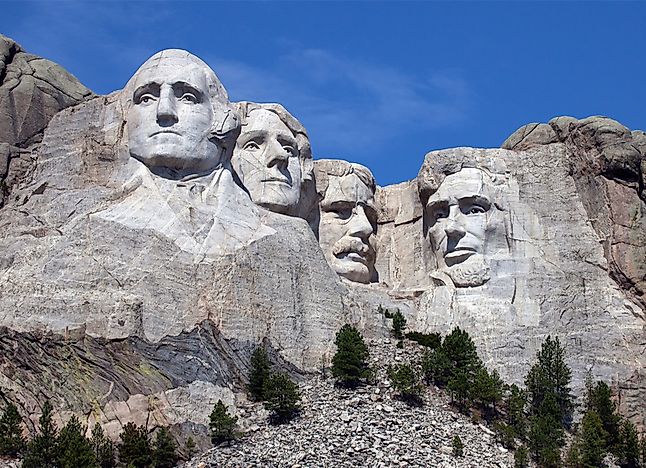 I think you get the point.
So I decided to construct my own Mount Rushmore for every NBA team. Here are some things to keep in mind:
We had some issues trying to make a case for teams that have moved recently. For example the Seattle Supersonics moving to Oklahoma City. We decided to combine the two as a the Sonics & Thunder. Or the whole entire Bobcats, Hornets, Pelicans mess. We just decided to do the Charlotte franchise and the Pelicans.. well they get their own Mount Rushmore but it's not that good.
Impact was used. Look the impact of each player really matters. What did you do at the time you played there. Yeah, Shaq only played a few years on the Miami Heat but he'd be eligible.. however.. he may or may not have made the list. You'll have to find out.
This doesn't project for future purposes. I believe Luca Doncic will be on the list for the Mavericks at some point. He is not on the list yet.
Cross-city franchises count. For example, "Pistol" Pete Maravich would be eligible to make it on the Utah Jazz Mount Rushmore even though he played for the New Orleans Jazz at the time.
A player can appear on more then ONE Mount Rushmore. For example, LeBron can only be on the Heat and Cavaliers Mount Rushmore.
Non players can also be on the Mount Rushmore (For example Greg Popovich on the Spurs)
 We have set our Mount Rushmore's in grading groups. 1 Cliff (lowest ranked mountain) 2 Cliffs (Average Mountain) 3 Cliffs (Great Mountain) 4 Cliffs (Hall of famers all around)
Got the rules? Great let's get started (All are in alphabetical order)
Atlanta Hawks
The Atlanta Hawks were founded in 1946. Originally they were the Buffalo Bisons before they moved to multiple cities (Lastly St.Louis), before they are now settled in Atlanta. The Hawks only have one championship to show themselves in their over 60 years history. The Hawks troubled history has brought in some exciting players along. Here they are:
Dominique Wilkins
Dominique Wilkins was known as the Human Highlight Reel. 'Nique was known for his vicious dunks and his ability to just put on a show.
He won two NBA Dunk Contests during his time in Atlanta. From a span of 11 full seasons with Atlanta, he averaged less than 20 points per game just once, and the led the Hawks to the playoffs eight times. Wilkins waged some memorable playoff battles with Michael Jordan and Larry Bird and is still the team's all-time leader in minutes played, games played, and points scored.
He was also known for some legendary nightlife. And legend has it that he even opened up his own nightclub in Atlanta simply called "Dominique's".
Bob Pettit
Bob Pettit. Well, most of us reading this probably haven't seen Bob Pettit play.
However, as you can see in the picture above he has a pretty cool patch of chest hair. He was the original star of the Hawks in St.Louis and then in Atlanta and led the Hawks to their only NBA title in the 1957-1958 season.
He played 11 seasons for the Hawks, from 1954-1965, Petit was the first player to win an MVP Award, the first player to hit 20,000 career points, and is still the only player in NBA history to have averaged at least 20 points and 12 rebounds in every season they played.
Joe Johnson
Joe Johnson has been a staple in our life for what I feel like forever. He was at one point the highest paid player in the NBA at a time where Kobe Bryant was still in the NBA.
Joe Johnson played for the Atlanta Hawks from 2005-2012. Joe Johnson led the Atlanta Hawks to a number 1 seed in the Eastern Conference Playoffs and was part of a Hawks team that had 5 All-Stars.
Johnson averaged 25 points per game in 2006-2007 and made the All-Star teams 4 times as an Atlanta Hawk.
Dikembe Mutombo 
When The Hawks signed Dikembe Mutombo as a free agent in 1996 he was just coming off being named Defensive Player of the Year.
Mutombo's  defensive dominance continued as a Hawk, winning Defensive Player of the Year in 1996-97 and again in 1997-98. Mutombo was four-time All-Star, an All-NBA Second Team selection (2001).
A two-time All-NBA Third Team selection (1998, 2002), and a three-time All-NBA Defensive First Team. Mutombo ranks second in NBA history with 3,289 blocked shots. And Mutombo was elected to the Basketball Hall of Fame in 2015.
Grade: 1 Cliff