The Los Angeles Angels have contacted The MLB to discuss whether newly signed Philadelphia Phillies outfielder Bryce Harper has engaged in tampering by talking about Mike Trout in public.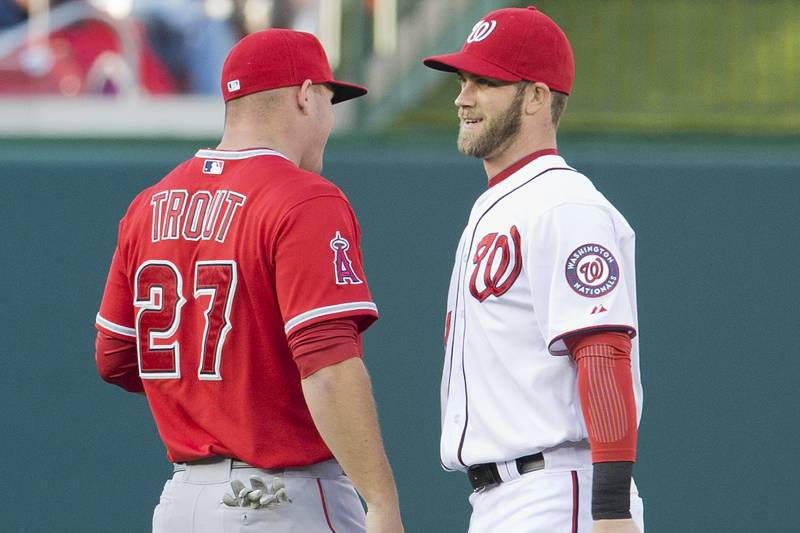 According to Maria Torres of the Los Angeles Times, Angels general manager Billy Eppler said the following on the matter in a text message:
"We've been in touch with MLB, and we have no further comment at this time."
Jeff Passan of ESPN later reported the MLB has contacted the Angels and Phillies about the comments. Passan added MLB has yet to determine if Harper's statement amounts to tampering.
Harper talked about the MLB looking into his comments on Trout, per Matt Breen of the Philadelphia Inquirer:
Bryce Harper talked today about MLB looking into his comments about Mike Trout. pic.twitter.com/B203gxezu0

— Matt Breen (@matt_breen) March 6, 2019
Harper said:
or me, I can be able to talk to Trout, or whoever it is, big-name free agent or whoever wants to come to Philly or is thinking about coming to Philly, I can say, 'Hey, this is the place to be. This is where the fans are great, ownership understands it, our manager is awesome.'"
The reason this is dumb, is because at the end of the day baseball should be embracing the fact that has some buzz on off field issues in regards for Bryce Harper this season, Manny Machado this season, and Mike Trout during 2020 free agency. Baseball and Major League Baseball should rather be thrilled about the buzz than try to quiet down teams from talking. At the end of the day, whether Bryce talked in public or not, the day will come and he will have a chance to recruit Trout to Philadelphia if Trout is willing and does test free agency.