March is upon us, and everyone knows what that means. It's March Madness. Avid basketball fans have been waiting on this month for months now, while the average sports fan starts to pay attention to college basketball now. Some love it for the upsets, and for making brackets while others watch to see what future NBA star will rise to the occasion. Personally I (Simon Villanoz) fall into that last category. The regular season is great, but now many young prospects have the chance to solidify their stock in the NBA draft. This month is where future stars are identified, so here are 5 players that I think will shine most when it counts. These are the players that you should keep an eye on.
DeAndre Ayton
I've heard some experts compare him to Joel Embiid, and from what I've seen I don't doubt it. The 7-1, 250 pound prospect from the Bahamas has put up great numbers during the regular season to fit that NBA star projection. The young freshmen has put up 19.9 points, 11.4 rebounds, and 1.9 blocks a game so far this season. He has been a dominant force in college, and has received well deserved attention so far. Their is a reason his name consistently comes up when people talk about the top 3 prospects in this year's draft. Ayton will not go out of the top 3 in this year's draft, and at this point it's kind of a fact based on the regular season alone.
Barring injury, Ayton can use this month to establish why he is the unquestionable number one selection in this year's draft. Arizona is 32-5 this year, and a lot of that is due to the fantastic play of Ayton. This player has an excellent array of post moves, along with the seemingly perfect touch when it comes to shooting in the post. In addition he can shoot from all over the floor with his smooth shot. Oh, and he's very athletic on top of all that, so wherever he falls short his athleticism makes up for the rest of it. Defensively he is a towering juggernaut that dominates the post just like how he can offensively. Altogether, DeAndre Ayton seemingly has all the tools needed to be the next dominant big man in the NBA.
Performing well in March like I said will solidify why he should be the number one overall pick. In addition, he is simply a fun player to watch. A player as dominant as Ayton does not come around often in college basketball. At least not somebody who has almost no injury concerns, troubled history, or significant doubts about other aspects in his game. Obviously basketball is a team game so I can't wholeheartedly say Ayton will single handily carry Arizona through the tournament, but don't be surprised if Arizona makes some noise this year. Chances are DeAndre Ayton will be the one causing all that commotion.
[nextpage title="Marvin Bagley III"]
Marvin Bagley III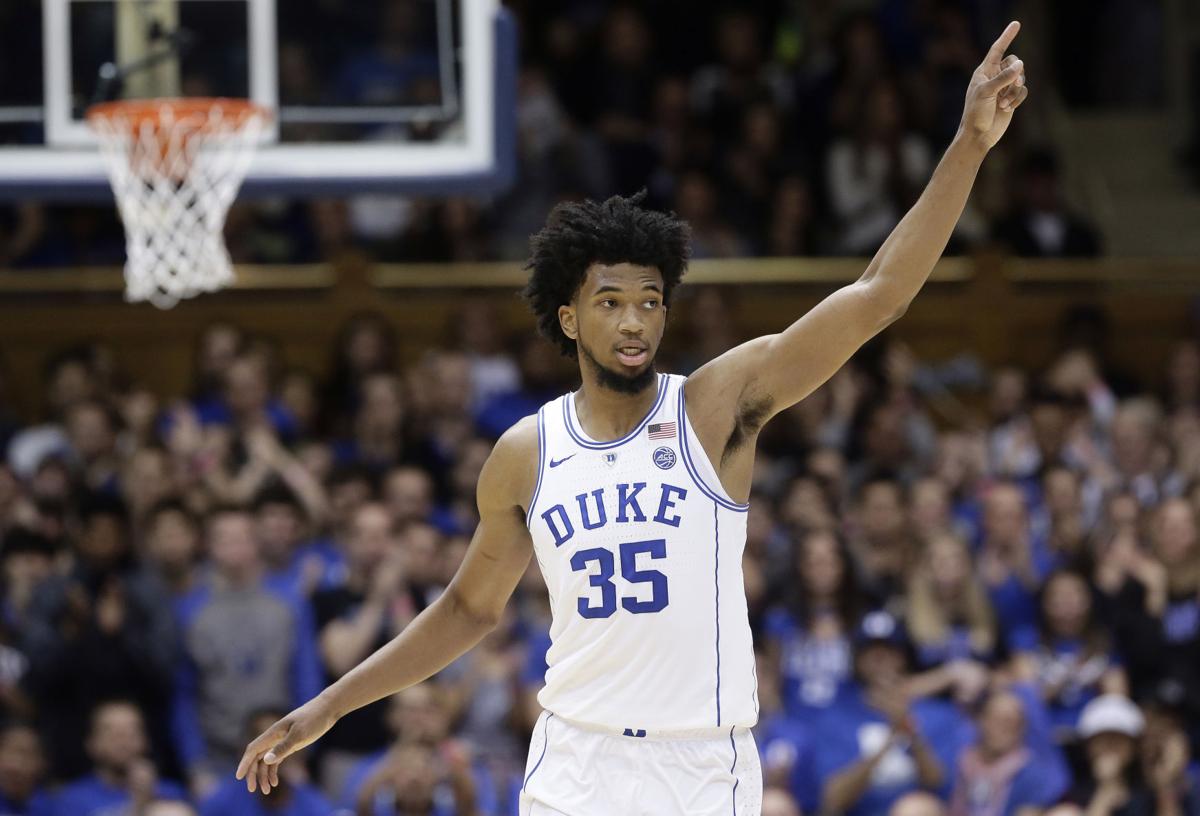 If I'm being honest there aren't too many differences between the games of Ayton and Bagley III. Both of them are big men who possess a very similar skill set. Like Ayton, Bagley III is an athletic big who can post up and shoot from anywhere on the floor. From what I can tell he does not have as developed post moves as Ayton, and he relies on his athleticism more in the post, but that does not change the fact that he still gets the job done. The freshmen from Duke currently averages 20.7 points, 11.2 rebounds, and a block a game. Bagley's numbers are very close to Ayton's and it shows how dominant he is as well despite being 6-11 and 234 pounds making him smaller than Ayton. Bagley is listed as power forward, but in today's NBA he has the versatility to play center or maybe even small forward as well.
In my opinion, Marvin Bagley III has more to gain by doing well in the tournament than DeAndre Ayton. I believe Ayton is the better player based on his size, but great play matched with the national exposure of the tournament can begin to change many minds about who the best big man truly is in this year's draft. Also let's be honest, Duke has a better chance of winning it all than Arizona right now. I wouldn't be surprised if Bagley has a couple big games when it counts to secure this year's national championship.
[nextpage title="Trae Young"]
Trae Young
Trae Young is somebody who I believe shouldn't go outside the top 3 in this year's NBA draft. Honestly, I think Young has done enough in the regular season to warrant top 3 projections like Ayton and Bagley, but whoever will become the number one overall pick will most likely be based on the team's drafting needs. I think if a team needs any sort of guard, than this is the guy they need. Everyone has heard about his insane scoring bursts throughout this season, but a couple insane bursts in the tournament can elevate his popularity to another level.
Already people are comparing the 6-2, 180 pound freshmen to guards like Steph Curry or Kyrie Irving. He is certainly putting up numbers like they would averaging 27.5 points, 3.9 rebounds, and 8.9 assists. Trae Young is as smooth a passer as he is a shooter, and he is the type of player that can catch fire quickly in a number of ways. Teams facing Oklahoma will see it as a nightmare situation trying to lock up Trae Young. Like I said before, basketball is a team sport so don't expect Trae Young to single handedly lift Oklahoma through the entire tournament, but it's hard not to think Trae Young won't give teams runs for their money. He will make opposing coaches sweat, because they know all it takes is a couple good plays in a row to trigger yet another amazing game out of the talented guard. Honestly, if you're not wanting to watch Trae Young already than you've missed out on a lot of great basketball. No worries though, if Trae Young is really who many think he is than he will make some memorable things happen in this tournament when the time comes.
[nextpage title="Jaren Jackson Jr"]
Jaren Jackson Jr.
Jaren Jackson Jr.
Honestly I do not know the most about Jaren Jackson Jr. but I know he is a talented raw player with a lot of potential. His averages aren't very eye popping besides the fact that the freshmen forward averages 11.3 points and 3.2 blocks a game. Jackson is 6-11 and 242 pounds with a lot of athleticism though, which can be seen on his highlight reel. He is projected to go in the top 10 this year in the NBA draft, but it's obvious he has not really done enough for him to separate himself from other prospects to be considered in the top 3 selections or even top 5 consistently.
Jaren Jackson Jr. is the type of player you just need to watch in order to see how good he is. His numbers may not show it, but his elite athleticism and size says differently. This tournament is important to all NBA prospects, but for Jackson his performance will most likely have a big impact on where in the NBA draft he will go. A good performance may warrant top 5 selection status, but a performance that leaves more to be desired may see his draft stock begin a drastic fall as the stocks of other prospects rise. The pressure in this situation for Jaren Jackson Jr. is definitely something to keep tabs on throughout this tournament.
[nextpage title="Michael Porter Jr."]
Michael Porter Jr.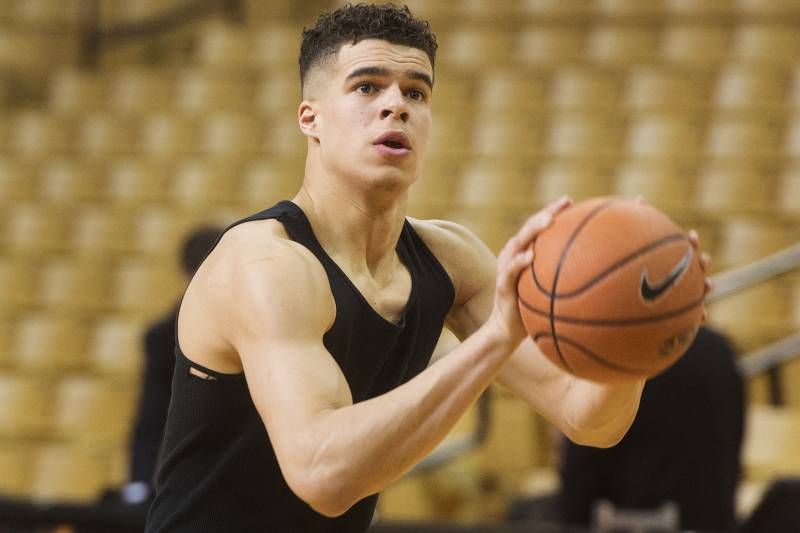 Michael Porter Jr.
            At the time I'm writing this Michael Porter Jr. has been cleared about a day ago to play in the SEC tournament for Missouri. Let's focus on Missouri for a quick second. The fact that they played solid basketball throughout this season despite losing Michael Porter Jr. early on to a back injury is pretty miraculous. Let's be real, 20-11 is a nice record for Missouri despite not having their freshmen star. In almost a dreamlike scenario, Missouri has positioned themselves to secure a spot in the tournament without playing with the player who was supposed to save Missouri basketball this season. Because of the unexpected play from Missouri, we all now get the treat to see what Michael Porter Jr. is made of on the collegiate level.
I've talked about prospects so far who have proved all season how good they are, but now we have a prospect in Michael Porter Jr. who everyone thought was the undisputed number one overall pick in this year's draft; has so far only played mere minutes this entire season. Everyone knows his skill set, and that he is an offensive nightmare from seeing his highlights in high school among other exhibition games as well. Yet, as of now he is still kind of unproven on the collegiate level. This tournament everyone will get to see how Michael Porter Jr.'s collegiate story will end. Can he bounce back from his back injury? Can he assert his dominance once again? How far can he lead the team he's not given up on yet? Find out this time on Dragon Ball Z: March Madness Edition.