During Tom Brady's amazing career in the NFL stories of how competitive he is and how much focus and energy he puts into his preparation have become stuff of legends.
Around the league and frankly the internet, there are tales of Brady's intense desire to win, temper tantrums when he loses, and extreme self-confidence. And at the Old Football age of 41 years old,
Brady desire to compete and win have become stuff of legends. This isn't only stories about Tom Brady's competitiveness however, we also are including stories you may have never heard before. And what brought him to where he is today.
Check out 30 of the best stories of Brady's career and life:
1. Tom Brady Is A Psycho Competitor In Everything He Does
Tom Brady is known as an extreme competitor in all aspects on and off the football field. One of his former teammates Darrell Revis described Brady's desire to win as a "sickness". While former Patriot Dan Koppen Said that Brady is the most competitive person he has ever met.Former Patriot receiver Danny Amendola told a story once that after Brady lost to him in Ping Pong that Brady was so upset that he broke the racket.In a similar story, his former backup QB Damien Huard once called Brady a "psychotic competitor" and told a story that he saw Brady lose a game of backgammon and Brady proceeded to to take the Backgammon board and "throw it across the room in rage". Honestly, if you ever have lost in backgammon you can understand the frustration..
2. Known As The Best Beer Chugger Among All Teammates
Legend has it that Tom Brady is pretty much great at a lot of things.One of those things in fact, is chugging beer. During his first few seasons in the league, Offensive Lineman swore that Brady would destroy them in beer chugging contests after practice. And Patriots backup QB Brian Hoyer said once at a team dinner, Brady took part in a beer-chugging contest with the whole team. Brady one convincingly, threw his hands in the air and walked away. He even showed his skills off on the Stephen Colbert show.
3. Tom Brady Loves A Good F-Bomb Tirade
In 2014, Tom Brady caught some heat from the media for being caught on camera shouting "F**k!" after making a bad throw. The Boston Globe wrote an article even criticizing him for it. But he went on Boston Radio and defended his love for the F-word saying:"There's nothing that quite expresses the way I feel like that word," he said when asked if he wanted to apologize for his bad language."
That's probably the best defense for the word we've ever heard.
4. In 2005, He Played With Extremely Swollen Testicles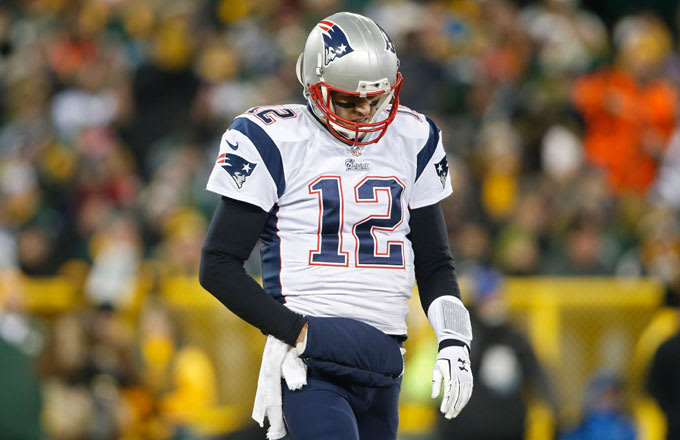 The only balls that can stop Tom Brady are the "deflated ones". Ok that joke has to be getting old. But in 2005 most people aren't aware that the Quarterback had his balls inflated THREE times their normal size. This condition was caused by a sports hernia and it affected him during the final two weeks of the regular season, as well as the playoffs. This may explain why he lost that season in the playoffs for the first time ever. However, to play under such a painful condition really shows how tough Brady can be and how much desire he has to play.
5. Once Gave His Teammates A Pep Talk Before A Charity Game
Everyone and everything is real competition to Tom Brady. And this story explains it well: Former Patriots backup QB Damien Huard said Tom Brady once gave his all his teammates a pep-talk before a charity game. Against who? Local Firemen. Brady couldn't help him self and had to make sure his teammates were ready.Always compete.
6. Forces Receivers To Stare Into The Sun Before Afternoon Games
We all know Tom Brady is all about prep. And Kevin Clark of the Wall Street journal spoke to former teammates to get details about Brady's intense preparation. Clark Explains:
These are the sort of small, incremental tricks Brady is known for. [Patriots receiver Brandon] LaFell said that before 1 p.m. games on Sunday, Brady holds his throwing sessions with receivers at the exact spot on the field where the sun will be in the receivers' eyes when they look back for the ball — and intentionally throws it to a spot that forces them to look into the sun so their eyes are used to locating the ball in such situations come game time.
Well, that can't be safe.
7.Introduction to Robert Kraft
Tom Brady has extreme confidence. And Tom Brady knew he'd be great. When he was drafted, he reportedly told Patriots owner Robert Kraft:
I'm the best decision this organization has ever made
And you know what? Brady is right. It was the best decision of all time.
8. Won't Sign Any Photos Where Mechanics Look Bad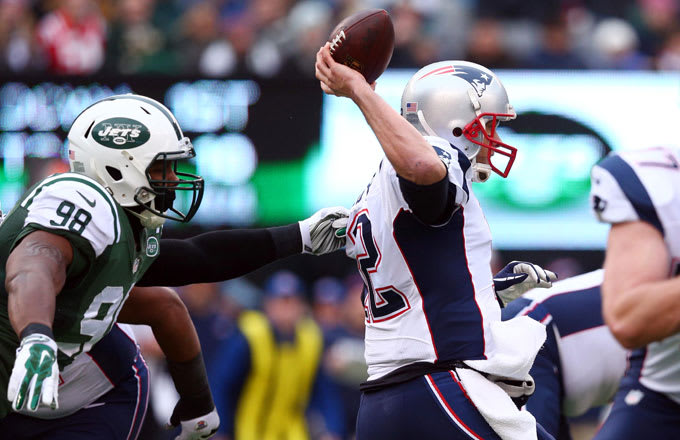 This is pretty cool. Tom Brady refuses to sign any photo where his mechanics look out of whack. Approached a few seasons ago by the Patriots head of media relations with an autograph request Brady declined saying simply:
"I don't want to sign that one, look at my mechanics"
Good thing Tim Tebow didn't hold himself to the same standard or we'd have ZERO signed photos of Tim Tebow in existence.
9. Caused A Retired Tight End To Pull His Hamstring
Sometimes, Brady just can't turn off his competition. This story is epic: Brady was playing in a charity football game to benefit disabled children and he got heated at former Patriots tight end Christian Fauria for not trying hard enough.So Brady cussed out Christian and told him to hustle. That resulted in Christian tweaking his hamstring. Christian was 38 years old and retired. After he got injured he proceeded to cuss Brady out.
10. Brady Maps Out His Life 3 Years In Advance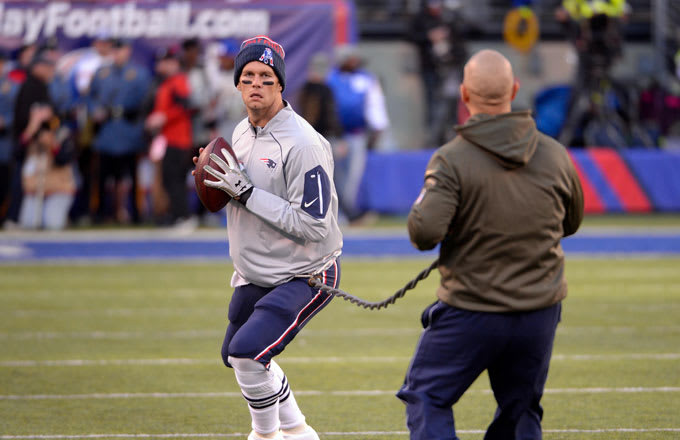 Everyone in their mind would want to be Tom Brady. But not everyone wants to put in the work that it takes to be Tom Brady. Here's a bit of what Brady does. He plans his schedule THREE YEARS IN ADVANCE. He does cognitive exercises to unwind before bedtime (usually 8:30PM both in and out of the season). It's said his schedule is currently mapped out all the way through his 40s. If that's true, that is just insanse.
11. Brady Plans On Playing Until He's 48 Or Beyond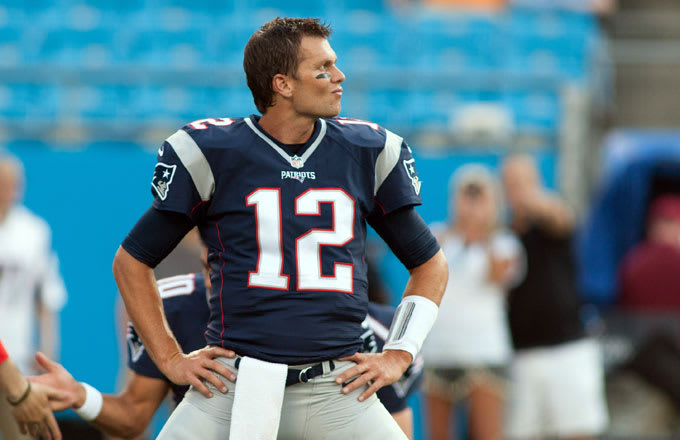 There's a reason behind Brady's crazy three-year advanced schedule. Why is that? Because Brady plans to play for a long time. How long? Brady has said he wants to play until he's 48 or even longer. That would put Brady playing through the 2025 NFL season. If that's the case then we might have to get used to seeing more appearances for The Patriots in the Super Bowl.
12. His Walk Out Song Is Jay-Z's "Public Service Announcement"
Picture: Jay-Z And Tom Brady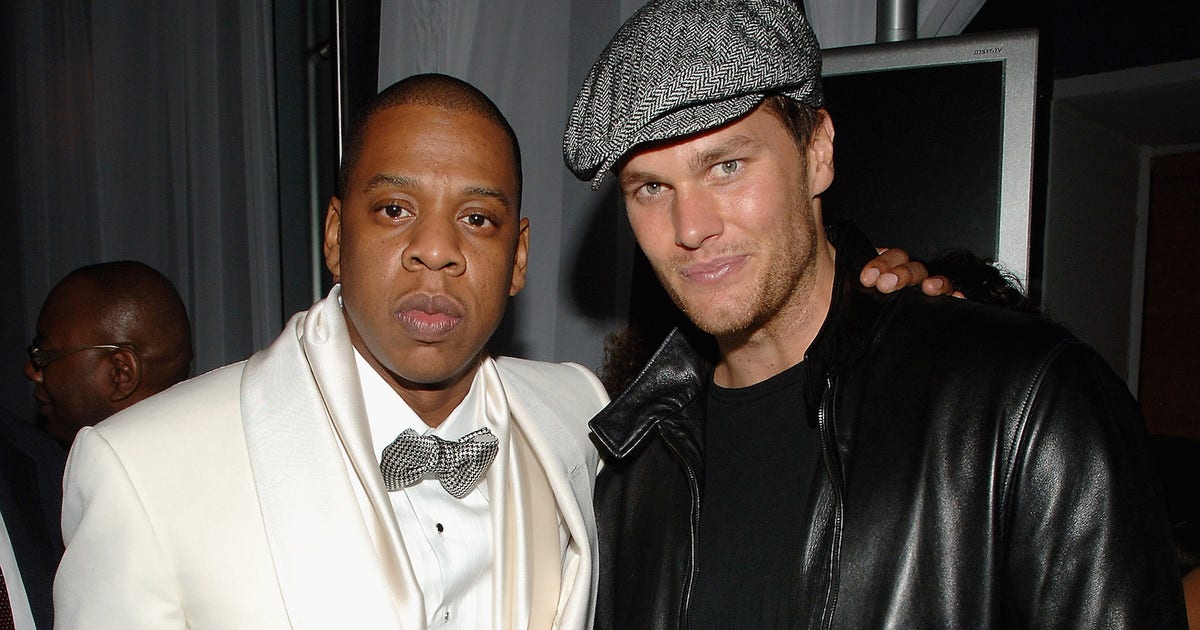 Brady is reportedly a big fan of both Jay-Z and Tupac. What's his favorite walk up song though? It has to be Jay-Z's "Public Service Announcement" Which he has played in Gillette stadium when he comes out of the tunnel for warm ups:
13. He Once Dreamed Of Wearing New Socks Everyday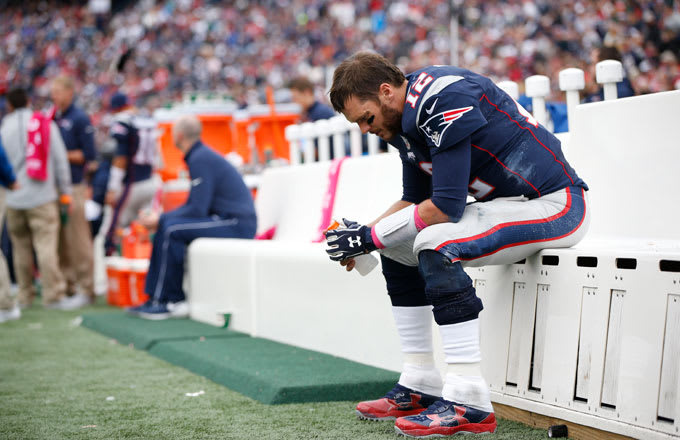 You think Brady's motivations would be something epic. Something that really pushed him to get to this point in his life. While in college Brady revealed to his teammate Aaron Shea:
"If I hit it real big. I want to be able to wake up, put a pair of socks on, and at the end of the day, I throw 'em away."
As anyone else would've done, Shea asked him if he was serious, to which Brady replied:
"Yeah, that's what I want. I love new socks."
14. Pays Practice Players For Intercepting Him
Tom Brady loves challenges and loves competition. And according to Donte Stallworth, Tom Brady used to pay practice squad players if they would pick him off at practice:
Brady actually paid practice squad and look team guys if they picked him off in practice. http://t.co/7c4cDcI1ol

— Donté Stallworth (@DonteStallworth) October 6, 2015
Why? Well simply, Brady knew if would get them to practice harder which would have him even more prepared to play in the game on Sunday.
15. Tom Brady Eats Avocado Ice Cream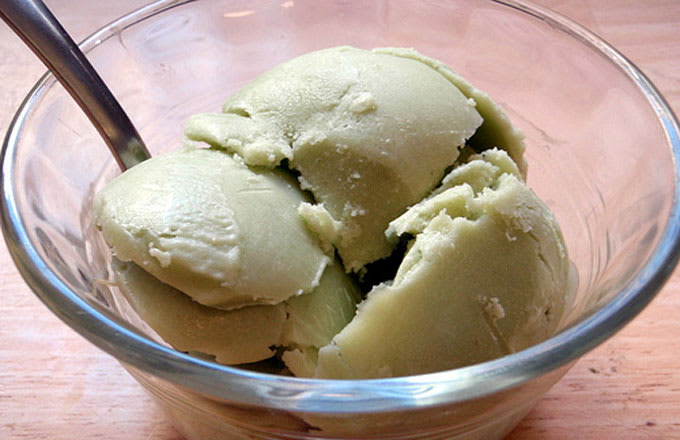 Tom Brady's diet is always been much talked about. Because of how strict it is. But think about his disgusting that actually sounds. Avocado Ice Cream. Eww.
16. Took A Nap Before First Super Bowl
Today Tom Brady gets so wound up during games and practices that he needs to do mental exercises to chill out and sleep.However, a younger Tom Brady was way more chill that he took a two-hour nap in the locker room before leading his team over the Rams in Super Bowl XXVI. According to reports Brady woke up 30 minutes before kick off. Or seriously, midway through the National Anthem.
17. Patriots Almost Drafted A Guy Named Tim Rattay Instead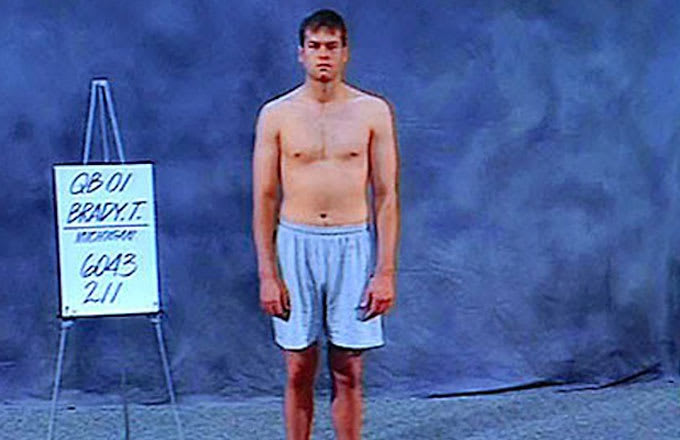 Brady was famously skipped over until 199th of the 2000 NFL draft. During the first 198 picks 6 QBs were chosen before Tom Brady.Brady however was almost passed over by the Patriots too. If it wasn't for the persistence of Patriots QB coach Dick Rehbein helping convince Bill Belichick to take Brady over Louisiana QB Tim Rattay. Rattay ended up going 212th overall by the 49ers where he passed less than 5,000 yards in his 8 year career.
18. Gives Uggs To All His Teammates
Tom Brady doesn't promote as many products as he probably could. But he is the face of the Uggs boots for men business. He's supposedly so dedicated to the company that he routinely gives the products to his teammates. He has broken down the barrier now their are 300 LB lineman proudly walking around in sheepskin footwear.
19. He Met Gisele Bundchen On A Blind Date
The Brady – Bündchen relationship and power couple tory began when a mutual friend set them up on a blind date by describing Gisele as "girl version of Brady" and Brady a "boy version of Gisele".Later Gisele described it as love at first sight:
"I could see it in his eyes he was a man with integrity who believes in the same things I do"
Now that's a power couple.
20. He Sold His LA House To Dr. Dre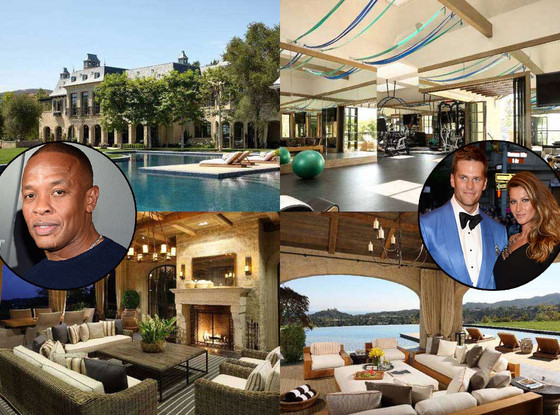 Brady and Gisele were living in a moated 18,000 Square foot Southern California Mansion that would looked like even better then The Fresh Price Of Bel-Air's house.It came complete with a six-car garage, seven fireplaces, nine crappers, and a gym with built-in monkey bars. Then they opted to sell it to the world's foremost headphones mogul, originally listing it at $50 million, before settling for a paltry $40 million.
21. Kevin Youkilis Is His Brother In Law
In 2012 Brady's sister Julie married another Boston Sports star. Kevin Youkilis. For a few months they shared the the same city and were both Boston stars. Then the Red Sox traded Youk to Chicago where he became a Cub. Pretty damn cool.
22. Tom Brady Was Drafted By The Montreal Expos
Tom Brady was also a baseball prospect but chose Football over Baseball which Patriot fans can thank god for. He was known as a slightly above average catcher. However, one of Brady's high school coaches thought that Brady was more of a "sure thing" then Barry Bonds! In 1995 Brady was drafted in the 18th round by the Expos but went to play football at the University of Michigan instead.
23. Hired A Psychologist In Michigan To Deal With Stress Of Being 7th String

Tom Brady is now a all time great. But that didn't come without struggle. During his tenure at the University of Michigan Brady had to hire a psychologist to help deal with the stress of being the 7th string QB in the program. He later went on to win the starting job.
24. Tom Brady Never Made The Playoffs In High School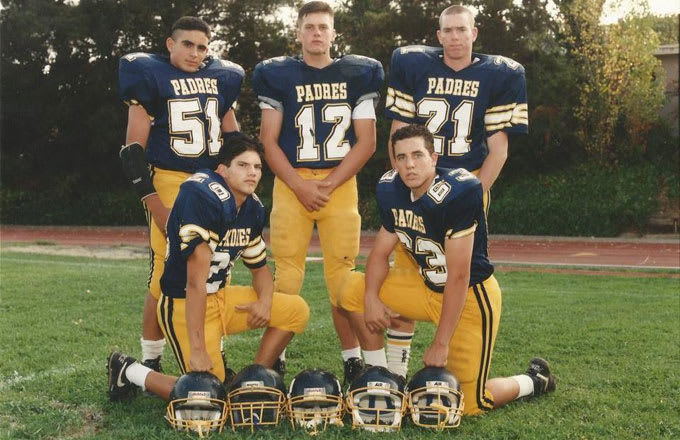 Well Tom Brady holds many records in the NFL including most playoff starts at QB in history. However, he doesn't hold any of those high school records. He never made the playoffs in high school at the QB position. As a Junior in high school his team went 6-4. As a senior in high school they got worse and finished at 5-5. Well, at least his NFL career went a bit better then his high school career.
25. Wasn't Even Good Enough To Start On His 0-8-1 High School Team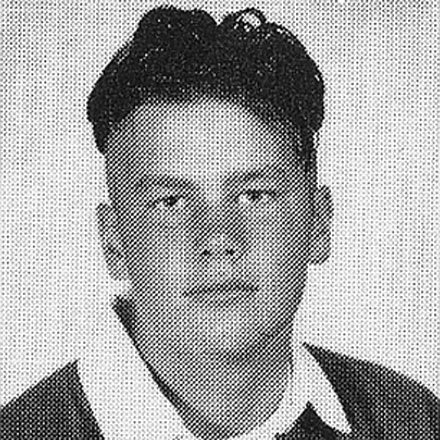 Talk about humble beginnings. Brady never even got to play tackle football until his freshmen year of high school. During that first season he was a barely used outside linebacker and backup QB for a team that ended up going 0-8 and check this: They never even scored a touchdown! The whole season. Brady ended up finally getting the starting job as Sophmore because his best friend and former starter quit the team to focus on basketball.
26. Stuffed Into A Locker In High School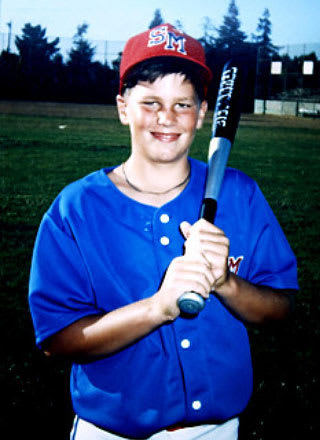 Supposedly a couple of his high school teammates as freshmen decided to stuff Brady into a locker. Well….. that's ok now: Things turned out great for Tom Brady.
27. Brady Was A Intern At Merrill Lynch
Picture: Tom Brady And Resume
As Brady was free falling from draft boards he thought he might have to go into the real world. So what did he do? He got an internship at Merril Lynch, you know what most college kids do. Later in an interview about the prospects about not playing pro football Brady said:
"I [didn't] want to have to be an insurance salesman, you know?
28. His Favorite TV Show Is Dexter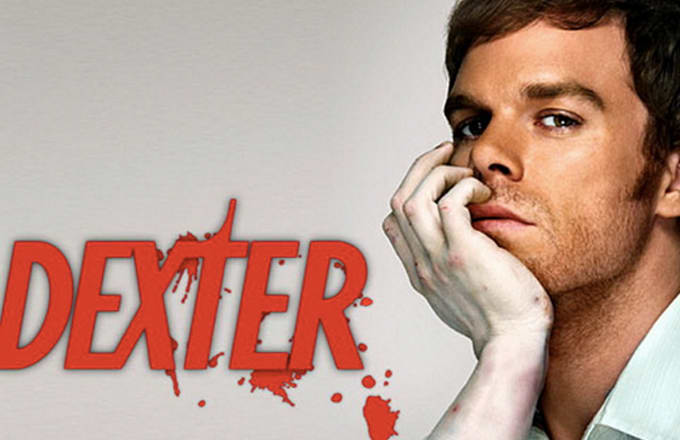 Well, we hope the only thing he has the same similarities to the main character is his physical appearance. If not, we might have to make an update on this list: Hope you get the joke.
29. Talked To Jim Harbaugh For 2 Hours To Convince Him To Take Michigan Job
Brady dialed up Harbaugh at the request of a friend, who waited a week to ask Tom because he was afraid do so after a Patriots loss. Less than a month later: Harbaugh was out as the 49ers coach and introduced as the head of the Wolverines program. Great convincing job by Brady.
30. He Pushes The Limits
He'll push his limits. According to Bill Belichick, during a round of golf at Pebble Beach. Brady hit the ball onto the edge of a cliff. Belichick watched in horror as his QB…Walked to the edge of the cliff and Belichick watched in horror as his QB climbed out onto the ledge. Brady always pushes to the limits.