Minnesota Twins

The Minnesota Twins have one of the more solid Mount Rushmore's on this list. They have 3 Hall of Famers on the list and one future Hall of Famer. We even had to leave a Hall Of Famer off the list. The Twins have 3 World Series Championships with their last being in 1991.
Kirby Puckett
Kirby Puckett was a real star for The Minnesota Twins and one of the biggest stars in all of baseball at the time of his rise.
After two relatively decent years, Puckett emerged as an all around threat in 1986. He had the first of his five 200 hit seasons, slugging a career best 31 homers and stealing 20 bases. Puckett made his first All Star Game, won his first Gold Glove and Silver Slugger awards, and finished sixth in the MVP vote. He had begun his ascension to becoming a superstar.
He led the league in hits in each of the next three seasons, and four years in total. Puckett was a ten time All Star, and the 1989 batting champion. He hit over .300 eight times, and won six Silver Slugger awards. Although he was 35 years old, he did not appear to be slowing down until his sudden retirement due to the glaucoma that left him blind in one eye.
Rod Carew
Rod Carew made an immediate impact on The Twins and became a superstar right away.
He won the 1967 Rookie of The Year and was a fan favorite for his flashy and fun play as soon as he got to The Twin Cities. Everyone loved Rod Carew.
His first huge year came in 1969 where he produced a .332/.386/.467 batting line, earning his first of seven batting titles. Carew would have four seasons of 200 or more hits, leading the league three times. He won the 1977 MVP award, producing an incredible .388/.449/.570 batting line, and leading the league with 239 hits, 128 runs, and 16 triples. Carew even drove in 100 runs, his only 100 RBI season in his career.
Harmon Killebrew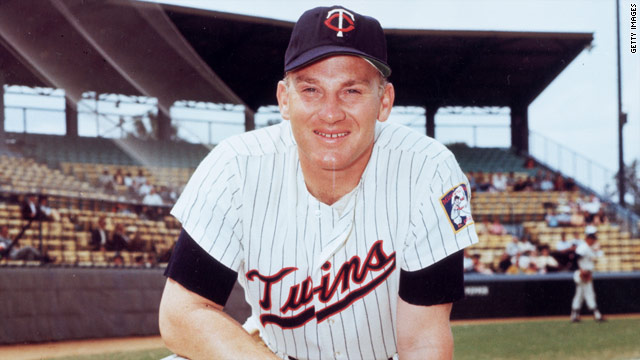 Harmon Killebrew was one of the original stars of The Minnesota Twins. He was a 13 time All Star and had incredible power hitting 573 home runs over his career.
To start his Twins career Killebrew he had four consecutive seasons with 40 or more homers. He led the league in three of those seasons, and five times overall, as a member of the Twins.
A prodigious power threat, Killebrew had eight seasons with 40 or more homers, and eight seasons with 100 or more RBI. He led the league in RBI three times, including his MVP season in 1969. That year, he had 49 homers and 140 RBI, producing a .276/.427/.584 batting line.
Joe Mauer
Joe Mauer is somewhat of a polarizing figure because of his huge contract that was given to him by The Twins during his playing career but this doesn't change any fact of how great he was.
There was a time when Mauer was one of the top offensive catchers in the game. He was the first catcher in American League history to win a batting title when he led the league with a .327 batting average in 2006.
He then won two more batting titles, in 2008 and 2009, taking home the MVP award in the latter year.
Grade: 1 Cliff