Philadelphia Phillies
The Philadelphia Phillies have two World Series Championships with their last being in 2008. They have an impressive Mount Rushmore and are one of the most iconic franchises in history of baseball.
Mike Schmidt 
Well after a slow start Mike Schmidt blossomed into a star. After a bad rookie season where he batted only .196 Mike Schmidt started to blossom.
Starting in 1974 he started to become a star. e made his first All Star Game, leading the league in homers and slugging percentage. That would start a streak where Schmidt led the league in homers for three years in a row.
Schmidt went on to make the All Star team 12 times, and won the league MVP 3 times. He also took home 6 Silver Slugger award and 10 Gold Glove awards. Schmidt is the best Phillie of all time.
Steve Carlton
He came from The St. Louis Cardinals and then helped transform The Philadelphia Phillies into a contender. He was a star in Philadelphia.
He was a seven time All-Star and won the Cy Young award four times. And he even finished in the top 5 of MVP voting 3 times.
In his first season in Philadelphia he won the pitching triple crown. He led the league in wins four times, and strikeouts five times, while becoming the Phillies ace. During his 15 years in Philadelphia, Carlton posted a 241-161 record, along with a 3.09 ERA and a 1.211 WHiP. In his 3697.1 innings, he struck out 3031 batters while issuing only 1252 walks.
Robin Roberts
Nicknamed The Whiz Kid Robin Roberts was the face of the Philadelphia Phillies in the 1950s. After he showed some promise in his first two seasons he developed into an ace in 1950.
Roberts was a seven time All Star, and finished second in the 1952 MVP vote. He won 20 or more games six times, and led the league in wins from 1952 through 1955. Roberts was also a workhorse, leading the league in innings, games started, and complete games, five times each.
With the Phillies, Roberts posted a 234-199 record, along with a 3.46 ERA and a 1.171 WHiP. Roberts is most likely the 2nd best pitcher in history of the franchise.
Jimmy Rollins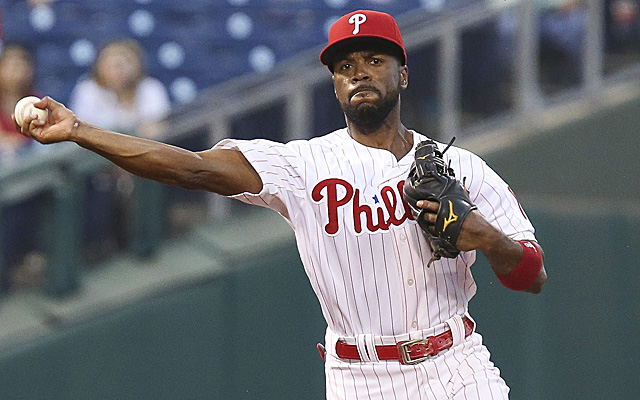 Jimmy Rollins is one of the most popular players in the history of The Philadelphia Phillies. And helped lead the Phillies to the 2008 World Series.
The Short Stop has an MVP to his name along with a Silver Slugger, 4 Gold Gloves, and 3 All Star games.
We put him on here just slightly ahead of Chase Utley because of the lone MVP award that Rollins has over Utley.
Grade: 3 Cliff