Cheez and Cheerz! Look, find me someone who doesn't love Cheezitz and wine and i'll find you someone who is crazy. And now, Kellog's is combining the two favorites into one.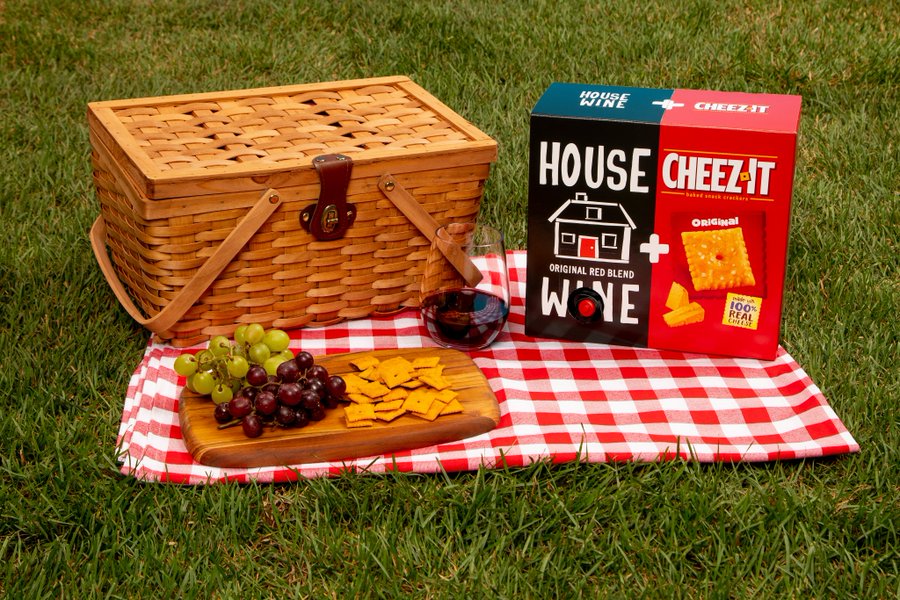 Sure, you could enjoy a classic pairing of fine artisanal cheese and wine at a picnic or party, but where's the irony in that?

For all you tongue-in-cheek winos out there, Kellogg and boxed wine brand House Wine have teamed up to bring you the ultimate creation of convenience and guilty pleasure: the Original Cheez-It and red House Wine combo box.

The vino is a balanced 50/50 blend of Cabernet Sauvignon and Merlot, and serves a generous 20 pours — so do bring a friend!

The 98-year-old Cheez-It brand says they were inspired by social media, where folks "have already been participating in pairing wine with Cheez-It flavors for years," its marketing director Jeff Delonis tells CNN Business. "So we're excited to deliver on that specific consumer trend."

The brands also suggest a few other DIY pairings, such as Malbec and Zesty Cheddar Ranch, rosé and White Cheddar, or sauvignon blanc with Extra Toasty Cheez-Its.

The boxes will sell for $25 each on House Wine's website starting Thursday at 5 p.m., while supplies last — which surely won't be long.
Someone in the marketing land at Kellog's obviously knows it's customer base perfectly. I mean this is a picture perfect combo. Pretty sure House Wine's website will be crashing Thursday. Cheerz to that!