Life must be really rough right now for Cody Bellinger. Could you imagine how tough it is? Let me give you a scenario to really paint this for you. How about if you were just at your job working, and all of the sudden a young, good looking girl ran out of nowhere just so she could give you a hug because she's obsessed with you? Sounds rough right? Poor Cody this is what is happening in his life. First it happened Sunday at Dodgers Stadium:
At least she got to talk to @Cody_Bellinger a bit. #dodgers pic.twitter.com/d0idGJMixf

— Franky bravo (@braaavo5) June 23, 2019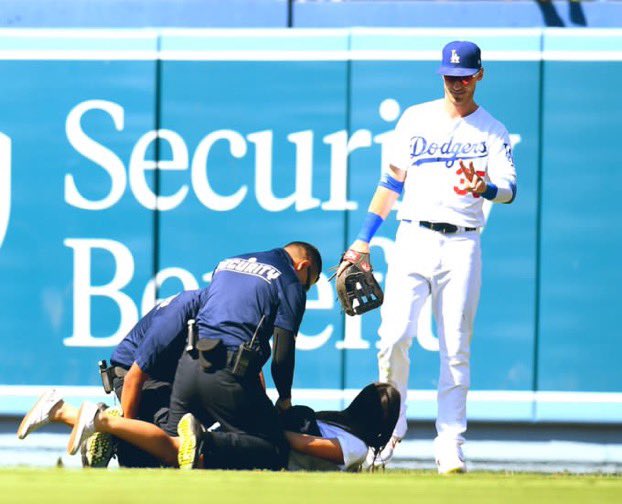 And Cody touched on it and he definitely explained how hard his life is:
Cody Bellinger: "You know you're going to jail."

Fan: "It was worth it." pic.twitter.com/N5eJxGBq9v

— Matthew Moreno (@MMoreno1015) June 23, 2019
And then you won't believe this BUT it happened again last night in Arizona:
— lol (@winnnforvinnn) June 25, 2019
Obviously, you can probably tell we are joking. Life must be great for Cody, and shout out to these brave women who continue to fight the fight and run on the field to just get whiff of Cody Bellinger. Oh if you aren't paying attention to Cody's season he's having the best season in all of baseball:
Yeah, life is good for Cody Bellinger.