So if you haven't see DK Metcalf yet, you have missed one of the most freakish athletes on earth. The guy looks like he's from another planet.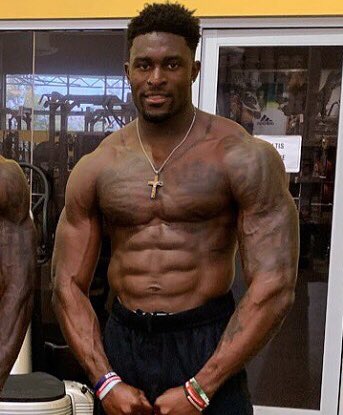 The former Ole Miss WR will likely be the top WR taken in the NFL draft. And is performance at the NFL combine further proves he's not actually from planet Earth. For example the 6-4 230 LB WR put up 27 Reps on the bench press challenge, which is more than some offensive linemen.
Video proof @dkmetcalf14 may not be human. #HottyToddy ??

? @nflnetwork pic.twitter.com/TQhgxJNkdq

— Ole Miss Football (@OleMissFB) March 1, 2019
He even ran a 4.33 40 yard dash for his size is remarkable.
Dk Metcalf put on a performance at the combine. 4.33. Pretty amazing at 6-4 230 dang pic.twitter.com/y8Nmjx2luu

— David Schuman (@nucfootball) March 3, 2019
Further more to prove he's not human DK Metcalf came in with an astonishing 1.6% body fat.
?@dkmetcalf14 with a 40.5 vertical jump.

? @nflnetwork pic.twitter.com/ELwFN3w9Ya

— Ole Miss Football (@OleMissFB) March 2, 2019
After the drills Metcalf called his family and got pretty emotional about his performance.
RT @NFL: An emotional @dkmetcalf14 calls his family after running a 4.33 and dominating the #NFLCombine ? pic.twitter.com/8jGyIZY0pK

— '05 Champ Bailey (@CaesarSuFle) March 2, 2019
What an amazing moment for Metcalf and his family. Last season at Ole Miss Metcalf posted 26 catches for 569 yards and 5 TDs.