So far, Kodey Stauffer and Simon Villanoz released their AFC North Team by Team Mock Draft Analysis  , and their NFC North Mock Draft Edition  and NFC East Team by Team Mock Draft Analysis Today Simon and Kodey released their NFC South team by team analysis below.
Tampa Bay Buccaneers
Selections
Derwin James (7) S out of FSU
Isaiah Wynn (38) OL out of Georgia
C. Jackson (69) CB out of Maryland
Rashaad Penny (104) RB out of San Diego State
Chase Litton (135) QB out of Marshall
Eddie Pineiro (166) K out of Florida
Analysis: The Buccaneer address all sides of the ball with both plug-in starters, and build depth. The Bucs were last in yards and pass yards allowed so using their first pick on a rangy enforcer should be the beginning of a turnaround that will be further addressed with a very athletic cornerback. The team also couldn't run the ball and Doug Martin has been to inconsistent. Que Penny who has playmaking ability running, catching, and returning the ball and would match the Bucs offense better. Fitzmagic is not the answer at backup QB so some depth wouldn't hurt there. The Bucs kicking game cost them some important wins this year and will wait to draft a kicker this year instead of reaching for a bust.
Atlanta Falcons:
Selections
Taven Bryan (26) Dl out of Florida
Equainameous St. Brown (58) WR out of Notre Dame
Jessie Bates (90) S out of Wake Forest
Scott Quessenberry (122) G out of UCLA
Kamryn Pettaway (186) RB out of Auburn
Geron Christian (218) OT out of Louiseville
Analysis: This team is coming off of its second straight postseason appearance and is still not too different from the roster that was the runner-up in the Super Bowl two years ago. However, Atlanta can use a gamechanger on the DL in Taven Bryan who is drawing some comparisons to JJ Watt, and a game wrecker that can complement Beasley as a pass rusher, and clog up the middle. I like them taking Pettaway as well to be the first hammer running back in town since Michael Turner to ease the load on Freeman and Coleman up the middle.
Carolina Panthers:
Selections
Donte Jackson (24) CB out of LSU
Duke Ejiofor (55) DE out of Wake Forest
Keke Coutee (85) WR Texas Tech
Jordan Lasley (88) WR out of UCLA
Danny Johnson (152) CB out of Southern
Greg Senat (183) OT out of Wagner
Michael Joseph (213) CB out of Dubuque
Nick Gates (216) OT out of Nebraska
Analysis: Ever since Josh Norman left, the secondary hasn't been quite the same. Donte brings an athletic CB in the secondary who also plays the run and tackles well and reminds me of Tre'Davious White a little bit. Ejiofor brings an intelligence and pass-rushing arsenal to the D-Line that's much needed with an aging defensive line. Jordan and Keke are steals in the third round to help out Cam with the departure of Kelvin Benjamin.
New Orleans Saints:
Courtland Sutton (27) WR out of SMU
Josey Jewell (91) LB out Iowa
Togray Scales (123) ILB out of Indiana
Mason Rudolph (138) QB out of Oklahoma State
Chris Herndon (155) TE out of Miami
Skai Moore (187) OLB out of South Carolina
Jordain Aikens (219) TE out of UCF
Analysis:
A compliment to Michael Thomas and another weapon for Drew Brees? Yes please. Then bulking up a weak linebacking corps and building depth to further improve what was already the most improved side of the ball. Mason Rudolph falls in this draft (probably not this far realistically) but also, Rudolph to the Saints is a move that would make Payton happy, and keep the Saints as good in the future. Herndon suffered a knee injury but if he recovers then he's better than any TE the Saints currently have on the roster. Aikens will suffice in the meantime.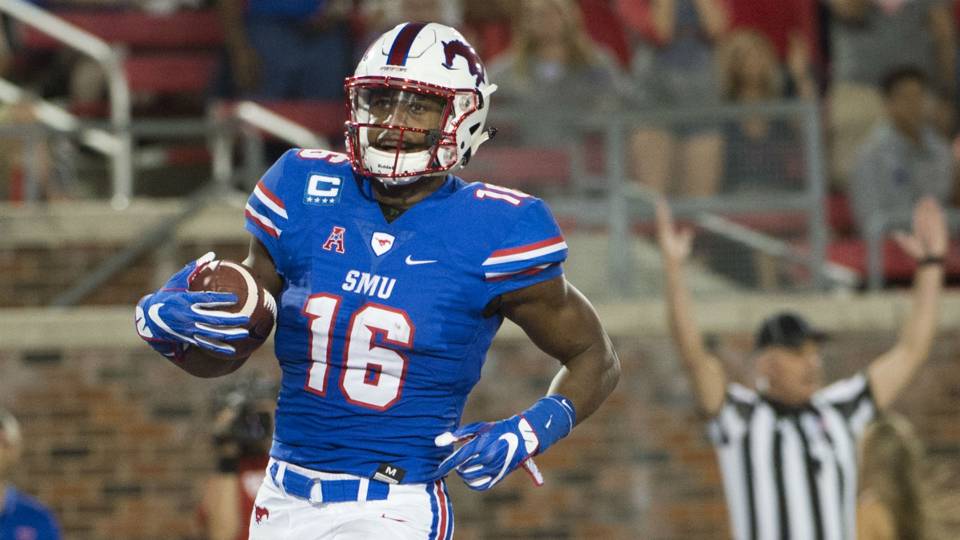 Stay tuned AFC South is next!